Outcry as a 1,000-year-old protected Buddha was painted with 'ridiculous' colours during botched repair works
拙劣的修复工作--千年佛像被涂上"可笑"的颜色,引发强烈抗议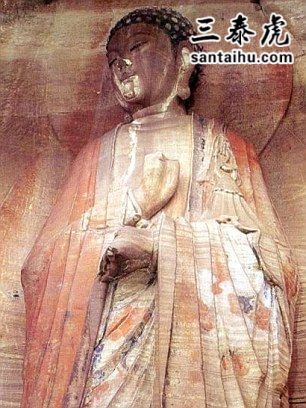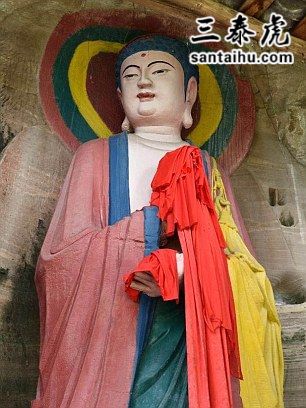 Bright coloured paint was splattered on the sacred figure in south-west China
Before and after photos of the flubbed restoration has gone viral on social media
Incident was compared with the ruined fresco of Jesus Christ in Spain in 2012
要点:
在中国西南部,一尊佛像被涂满了鲜艳的颜料;
修复前后的对比照片在社交媒体上疯传;
此次修复事件被拿来和2012年西班牙一幅被毁的耶稣基督壁画相比较;
Botched repair works of a protected Buddha statue in south-west China have left the relic covered in bright, cartoonish colours, sparking ridicule and outrage.
在中国西南部,一尊受保护的佛像修复工作拙劣,佛像被涂上鲜艳的卡通色彩,引发了人们的嘲笑和愤怒。
One web user joked that the stone sculpture, around 1,000 years old, now appears to have a giant lollipop behind its head; while another person lamented that the sacred figure looks like it belonged in a red light district.
一位网友开玩笑说,这尊佛像大约有1000年的历史,现在它头部似乎顶了一根巨大的棒棒糖。而另一位网友则悲叹,这个神圣的雕像看起来像是属于红灯区。
The local government has issued an apology after photos of the flubbed restoration went viral on social media, where users called the paintwork 'disfiguring and disrespectful'.
当修复照片在社交媒体上疯传后,当地政府发表了道歉声明。网友称用油漆刷佛像"不仅使佛像毁容而且缺乏敬畏"。
The alarming facelift in China brought back memories of other botched works, including the failed restoration of a Jesus Christ fresco in a Spanish church in 2012 that left the saviour looking like a hairy monkey.
中国此次令人震惊的佛像"整容"让人想起了其他一些拙劣作品,包括2012年在西班牙一所教堂修复耶稣基督壁画的失败,让救世主看起来像一只毛茸茸的猴子。
The restoration works on the protected artifact were actually carried out in 1995 by unqualified workers.
此次文物修复工程实际上是在1995年由不合格的工匠进行的。
But the incident was brought to light on Saturday after Xu Xin, a guide at the Dunhuang grottoes in Gansu province, posted the pictures on his Weibo account, where criticisms and angry comments quickly gathered.
但直到上周六,甘肃敦煌石窟的导游徐鑫(音译)在其微博上发布了这些照片后,此事才被曝光。这条微博下面立即引起大量网友的抨击和怒评。
The relic is situated inside a grotto in Anyue county, Sichuan province, and dates back to the Song dynasty (960-1279).
该文物位于四川省安岳石窟内,可追溯到宋朝时期(960-1279)。
Before and after pictures of the 1,000-year-old Buddha shows bright red, yellow, blue and green paint splattered onto the sculpture, creating a cartoonish colour scheme.
从这尊千年佛像的前后对比照片可以看出,佛像涂满了亮红色、黄色、蓝色和绿色的颜料,形成一种卡通的色彩搭配。
A halo behind the sacred figure was filled in with different colours, leaving the Buddha's head right in the centre of what looks like a rainbow dart board.
佛像背后的光环涂满了不同的颜色,佛陀的头看起来像在彩虹镖靶的中间。
Xu told MailOnline that the botched repair is 'a great shame'.
甘肃敦煌石窟的导游徐鑫告诉《每日邮报》,这种拙劣修复是"一大耻辱"。
'Cultural relics are called cultural relics because of their "old" appearances, indicating their historical value,' he said.
"文物之所以被称为文物,是因为它们的"古老"外观,表明了它们的历史价值。"他说到。
'Re-construction works may reflect the believers' faith, but if the original marks of the original artifact are covered up, it will be transformed into a religious statue and wouldn't be a historic relic anymore.'
"修复工程可能反映了信徒的信仰,但如果掩盖了原始文物的痕迹,它就会变成一座宗教雕像,而不再是历史遗迹。"
The incident remained a trending topic on Weibo, with the page titled 'Grotto statue suspected of being brutally restored' gathering more than 42 million views.
这一事件仍然是微博上的热门话题,标题为"疑似被野蛮修复的石窟造像"的页面浏览量超过4200万。
'What is that behind the Buddha's head? Is it a lollipop?' One said.
"佛陀脑袋后面是什么?"是一根棒棒糖吗?"其中一位网友说到。
'The once-dignified statue is now completely ruined by amateurs,' said another. 'Looking at the colourful Buddhua, I don't feel peace anymore.'
另一位网友说,这座曾经有尊严的雕像现在完全被业余爱好者毁了。看着这五颜六色的佛像,我再也感觉不到了平静祥和了。"
'The sculpture now looks like it belongs in a red light district,' commented another. 'The colour scheme reminds me of busy traffic lights.'
还有一位网友评论说,这座雕像现在看起来像是属于红灯区。这种配色让我想起繁忙的红绿灯。"
The Anyue county prides itself on being 'the City of Lemons and the City of Buddhist Sculptures'. There are more than 100,000 sculptures dating back as early as the 900s erected across the township, according to the government website.
安岳县以"柠檬之城、佛像之都"而自豪。据政府网站统计,早在公元900年,全县就有10万余尊佛像雕塑。
In a notice posted on its official Weibo account, the Anyue County government said the restoration job was proposed and paid for by local residents in June, 1995.
安岳县政府在其官方微博发布的一则通知中表示,这项修复工作是当地居民于1995年6月提出并自发出资完成的。
'Residents lacked professional knowledge on cultural relic conservation and restoration and hired workers to carry out the repair works,' the statement read.
声明称,居民缺乏文物保护和修复方面的专业知识,自行聘请工匠进行修复工作。
It claimed that officials immediately stopped the job after finding out, but the Buddha statue was already re-painted. However, they were able to prevent similar works that were scheduled to be carried out on other statues in the same grotto.
据称,工作人员发现后立即阻止了修复工作,但佛像已被重绘。然而,他们阻止了计划在同一石窟的其他雕像上进行的类似工作。
'After the incident, the Administration of Cultural Heritage strengthened management and protection of other relics,' it added. 'No similar restoration work was carried out again in recent years.'
声明还称,事件发生后,国家文物局加强了对其他文物的管理和保护。近年来没有再发生类似的修复工作。
China's Criminal Law and Cultural Relics Protection Law stipulates that anyone who damages cultural relics could face a fine ranging from 5,000 yuan (£570) and/or up to 10 years in prison.
中国刑法和文物保护法律规定,任何人破坏文物可能面临5000元罚款(合570英镑)和/或10年监禁。
In 2013, centries-old Buddhist frescos in a temple in Liaoning province were ruined when they were painted over with cartoon-like Taoist figures during an unauthorised restoration.
2013年,在一次未经许可的修复过程中,辽宁省一座寺庙内的古老佛教壁画被毁,壁画上画满了卡通形象的道教人物。
The paintings were inside a 270-year-old temple and are said to be from the early period of the Qing Dynasty (1644-1911). As a result, two government officials were fired.
这些壁画位于一座有270年历史的寺庙内,据说是清朝(1644-1911)早期的作品。结果,两名政府官员被解雇。
Elsewhere, a 1930 'Ecce Homo' fresco of Jesus Christ in a church in Borja, Spain was wrecked by a pensioner in her 80s, who became the laughing stock of the world in 2012 after the failed restoration attempts sparked global condemnation.
在其他地方,2012年西班牙博尔哈的一个教堂里,一幅1930年《戴荆冠耶稣》壁画被一位80多岁的退休老人毁了。在修复失败引发全球谴责后,这位老人成了全世界的笑柄。
In June this year, a 16th-century St George sculpture erected in a small church in the town of Estella, northern Spain was left looking 'like a Disney cartoon character' after a botched facelift by a local handicrafts teacher.
今年6月,一座建于16世纪的圣乔治雕塑矗立在西班牙北部埃斯泰拉镇的一座小教堂里,在一位当地手工艺老师拙劣的翻新之后,这座雕塑看起来就像"迪斯尼卡通人物"。
英国每日邮报读者评论:
来源:三泰虎 http://www.santaihu.com/45781.html 译者:Jessica.Wu
外文:http://www.dailymail.co.uk/news/china/article-6039205/Outcry-1-000-year-old-Buddha-statue-given-ridiculous-colour-pattern-botched-repair-works.html
Ringwald Toast, Ratchaburi, Thailand, about 6 hours ago

I've been living and traveling all over Asia for the last twenty years and this looks just fine to me.

在过去二十年里,我一直在亚洲各地生活和旅行,在我看来这还不错了。
Barry Soetoro, Bohemian Grove, United States, about 9 hours ago

Jesus christ, Krishna, Buddha are all the same.

耶稣基督,克利须那神(印度神),佛陀并无分别。
Halvah, East Podunk-Vista, United States, about 10 hours ago

If statues can cry, they can change their clothing.

如果佛像会哭的话,他们就能换"衣服"了。
qahwagi, Madison, United States, about 13 hours ago

Who is to say that the original colors were not "bright,and cartoonish" ??

谁能保证原版的颜色就不是"明亮,卡通"的??
chebbah, croydon, United Kingdom, about 13 hours ago

I think it's rather great looking .

我觉得看起来相当不错啊。
xx jj, Location Location, United States, about 13 hours ago

colors in ancient times were vibrant. they are only faded by time and bad attitudes .

古代的颜色都很明亮鲜艳,只是随着时间和维护不当而褪色了。
london1aa, London, United Kingdom, about 14 hours ago

This is factually incorrect - just go and look at any buddhist temple and you will see that bright colours are a feature of them all. Comparing them to chrstian restoratons is irrelevant - go to bangkok and see the accurate buddhist iconology. your outrage is misplaced.

实际上这么说是错的。只要去看看任何一座佛寺,你就会发现颜色明亮是它们的一个特征。拿来和耶稣基督修复像进行比较是不妥的。去曼谷看看正宗的佛像,你会发现自己的愤怒是不对的。
Jojo, San Francisco, United States, about 14 hours ago

Does no one vet the credentials of a restorer any more?

就没人审查修复者的资格?
Reallyruby, Liverpool, United Kingdom, about 14 hours ago

I don't think Buddha would be bothered

我想佛陀自己是不会介意的
Duvet King, Bed fordshire, United Kingdom, about 14 hours ago

Religion

宗教
Meagdog, Kansas City, United States, 14 hours ago

This is news?

这还算新闻吗?
Meadowfairie, Charleston, United States, 15 hours ago

It needs to be more muted in color - the bright colors that away from the dignity of the statue . IMHO

恕我直言,佛像需要更柔和的颜色,明亮的颜色和佛像的庄严背道而驰。
Californian, Sacramento, United States, 15 hours ago

It's probably close to the original.

很可能和原版很接近。
NM2, notts, United Kingdom, 15 hours ago

It's them bloody Pride lot again.

又是他们更骄傲了。
KMD1991, Dublin, Ireland, 15 hours ago

If anything it looks better but if you don't like it, feel free to buy a few cans of paint & repaint it yourselves.

如果有什么东西看起来更好但你不喜欢的话,随便买几罐油漆自己重新漆一遍吧。
Malakey-es, Orange, United States, 16 hours ago

Looks good to me.

在我看来挺好的。
ajara, Amsterdam, Netherlands, 16 hours ago

Well, it has bought a bit of colour into his life.

好吧,这给他的生活增添了一些色彩。