China to give international students increased work options
中国将为来华留学生提供更多工作选择
NEW DELHI: China is increasingly being preferred over the UK and the US as a destination for foreign students, and now, to sweeten the pot some more, it has decided to allow these students to take part-time jobs while in university said the country's education ministry to the state-backed China Daily.
新德里:中国教育部对官媒《中国日报》表示,作为外国学生的留学目的地,中国正日益比英国和美国更受青睐。现在,为了进一步增加吸引力,中国决定允许这些留学生在大学期间从事兼职工作。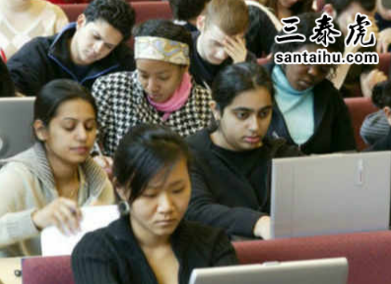 China's gov-ent is already exploring allowing international students in Beijing and Shanghai to take part-time jobs or internships off campus. This, after they obtain requisite approvals, from their academic institutions and the entry and exit administrative authorities. And in Shanghai a pilot policy enables freshly-graduated international students to accept internships or to start their own business - in a special innovation zone - for as long as two years after graduation.
北京已经将北京和上海作为试点,经校方和出入境管理机构批准后,允许国际学生在校外兼职或实习。在上海,一项试点政策允许刚毕业的国际学生在毕业后两年内进行实习或在一个特殊的创新领域创业。
Already, thanks to changes like these, China is receiving more Indian students than the UK, reported TOI in January. In 2016, there were 18,171 Indians in China compared to 18,015 in the UK. By 2015, the number of Indian students studying in China reached 16,694, compared to 765 just 10 years previously.
据《印度时报》1月报道,由于这些政策变化,中国接收的印度留学生数量已经超过了英国。2016年,中国有18171名印度留学生,而英国只有18015人。2015年,在中国学习的印度学生人数达到16,694人,而10年前仅为765人。
China Daily quoted a Renmin University official as saying there is an increasing demand for international students at the university to apply for internships to take advantage of China's rapid development.
《中国日报》援引中国人民大学一位官员的话称,该校国际学生申请实习机会的需求越来越大,以利用中国的快速发展。
"China is growing quite fast, with new and innovative industries springing up every day. I want to seize this growth opportunity and grow with China," said Australian student Thomas Linnette to China Daily.
"中国发展很快,每天都有新的创新产业涌现。我想抓住这个增长机会,和中国一起成长。"澳大利亚学生托马斯在接受《中国日报》采访时表示。
Wang Huiyao, director of the Center for China and Globalization, an independent think tank based in Beijing, said it makes sense for the country to more broadly expand such innovative work options as they will reinvigorate China's workforce development.
总部位于北京的独立智库-"中国与全球化研究中心"主任王辉耀(音译)表示,广泛扩大此类创新工作选择对中国也是由意义的,因为它们将重振中国的劳动力发展。
"Foreign employees can give domestic enterprises an advantage as they expand overseas, plus it's only logical that these graduates want to put into practice what they have learned," he said.
他表示:"外国雇员可以给国内企业带来优势,此外,这些毕业生希望将所学知识付诸实践也是合乎逻辑的。"
South Korea continues to send the maximum number of students to China, but a close second is the US and Thailand comes next. Pakistan and India follow. When this decade opened, China was not on most students' radar; now, having made rapid strides in the unlikely field of higher education, it is attracting several thousand foreign students every year. Most of them are studying humanities, followed by medicine.
韩国向中国输送的留学生最多而且还在继续,紧随其后的是美国,其次是泰国,巴基斯坦和印度。当这个十年开始的时候,大多数学生并不关注中国。如今,在高等教育这一看似不可能的领域取得快速进展后,中国每年吸引了数千名外国学生。他们大多数人学的是人文学科,其次是医学。
As far as Indian students there are concerned, the largest slice is pursuing medicine. But as Maria Mathai, director, MM Advisory, points out, "What started with medicine is now expanding to engineering too as we see a lot of Indians now enquiring about computer science courses in Chinese universities."
就印度学生而言,目前选择医学的比例最大。但正如咨询公司MM Advisory总监玛丽亚•马泰所指出的,"我们发现很多印度人都在咨询中国大学的计算机科学课程,所以现在工程学也要赶上医学了。"
印度时报读者评论:
来源:三泰虎 http://www.santaihu.com/45764.html 译者:Jessica.Wu
外文:https://timesofindia.indiatimes.com/world/china/china-to-give-international-students-increased-work-options/articleshow/65302872.cms
Roushon S1541 Roushon S-20 hours ago -Follow

The next made in china product could be made by your son/daughter!

下一批在中国制造的产品可能出自你的儿子或女儿之手!


PorkiPigKiller4223 PorkiPigKiller-19 hours ago -Follow

caution students. you cannot expect the same life as in US because china is com-nist

学生们,小心点!你们不能指望和美国一样,因为中国是gc国家。
Freedom Indians freedom Indians-UK-12 hours ago

Quote: No freedom of travel out of country ?????

Every year millions of freedom-less Chinese travel all over the world, including India, spending billions USD $ to local economy. Go to USA, UK, France, Italy, Spain, Aussie, Thailand, on and on, lots Chinese tourists but no Indians. In contrast, Freedom-laden Indians are either working as slave laborers in Mideast or queued up in front of US consulate offices, begging for H1-B visa, or seeking asylums all over the world.

没有出国旅行的自由????

每年,数以百万计没有自由的中国人到世界各地旅游包括印度,给当地经济带去数十亿美元。美国、英国、法国、意大利、西班牙、澳大利亚、泰国等国家,有很多中国游客,但却没有印度游客。相比之下,高度自由的印度人要么在中东做奴隶,要么在美国领事馆前排队,要么在世界各地寻求庇护。
ONE LINER Challenge13839 ONE LINER Challenge-19 hours ago -Follow

I PITY HOW RESERVATIONS ARE DRIVING OUT SO MUCH TALENT- ANYONE WORTH HIS SALT WILL NOT LIVE IN INDIA ANY MORE- THEY RISK EVEN A COMMUNIST COUNTRY-FOR A BETTER AND RESPECTABLE LIVING- SORRY INDIA GET YOUR RESERVATIONS ACT RIGHT BEFORE YOU WILL BE LEFT WITH RESIDUE WORTH NOTHING.

很遗憾,预留制赶走了这么多人才。任何一个称职的人都不会再在印度生活了,为了更好更体面的生活,他们甚至冒着去一个gc国家的风险。在落得残留一些一文不值的东西之前,印度要尽快纠正预留制。
Kalki Brownbrahamin Kalki Brownbrahamin-singapore-19 hours ago -Follow

In modi raj indians prefer chiese degrees is the quality of indian system so bad....will Modi work on it. US and UK are globally recognised....

印度人青睐中国学历是因为印度教育体系糟糕,莫迪会解决这一问题吗?美国和英国可是全球认可的....
Rajesh Singhal6705 Rajesh Singhal-19 hours ago -Follow

China can do anything which will be alligned toward the development of the country. No one has the right to make any sort of moves which may weaken the country unlike India where there is practically no punishment for any crimes done. China has 5 lacs foreign students with the option of choosing Chinese or English as the basis of study. To allow part time jobs will encourage the students to move to China. This shows that there is enough scope for jobs in China unlike the present unemployment conditions that exist in India.

中国可以为国家的发展做任何事情。没有人有权采取任何可能削弱这个国家的行动,不像印度,对任何犯罪行为几乎没有任何惩罚。中国有50万留学生,可以选择中文或英文作为学习语言。允许从事兼职工作将鼓励学生到中国学习。这表明,和印度目前的失业状况不同,中国有足够的就业机会。
Modi Moid Modi Modi moid modi-UK-12 hours ago

Over 18000 Indian students in China universities. What happened to India''s world class universities? Indian students pursuing computer science in China. What happened to India the Information Technology (IT) superpower?

超过18000名印度学生在中国大学学习。印度的世界一流大学这是怎么了?印度学生居然去中国学习计算机科学。印度这个信息技术(IT)超级大国怎么了这是?
AGR India6407 AGR india-chennai-16 hours ago -Follow

Chinese will never use English in China. who needs their work permit

中国人永远不会在中国使用英语,谁要他们的工作许可!
WILLIAM INDIA10141 WILLIAM INDIA-MANGALORE-17 hours ago -Follow

WHAT IS THE GHAURANTEE THAT THEY MIGHT NOT TREAT THEM JUST LIKE CHINESE CITIZENS, WHO ARE NOT ALLOWED ETC ETC.... NO FREEDOM OF SPEECH,..NO FREEDOM OF TRAVEL OUT OF COUNTRY...ETC...

谁能保证他们不会像对待中国公民那样,这也不允许做、那也不允许做等等,没有言论自由、没有出国旅行自由等……
Universal9602 Universal-USA-18 hours ago -Follow

china will be next gulf for indians

对印度人来说,中国将是下一个港湾。
Francis Bourne9251 Francis-Dubai-19 hours ago -Follow

Now our Doctors advocates ,engineers or any will be made in china instead of US,UK..

现在我们的医生、工程师等等都将在"中国制造"而不是美国、英国。
Suraj7268 Suraj-19 hours ago -Follow

work in China?no thank you

在中国工作吗?不需要,谢谢。
Pappu G698 Aim -19 hours ago -Follow

Its not about quality of education in india, its about ambitions of going abroad in young indians. Everyone wants to go abroad.

这和印度的教育质量无关,而是和年轻印度人出国的雄心壮志有关,每个人都想出国。
Swatant11615 Swatant -19 hours ago -Follow

Chin is building!

中国正在崛起!
Zokhuma Lushai4614 Zokhuma Lushai-19 hours ago -Follow

This is "Lure of the Wilderness". Indeed, the Dragon has an hypnotic power to attract in a materialistic ways Wage war now with China, and these students will automatically become hostages or deported before fulfing their ambitions

这就是"荒野的诱惑"。的确,中国龙有一种催眠的力量来引诱别人与中国开战,在这些学生实现他们的抱负之前,他们会自动成为人质或被驱逐出境。