48 dead, 11 injured as bus falls into gorge in Uttarakhand
北阿坎德邦一巴士坠入峡谷,造成48人死亡,11人受伤
DEHDADUN: In one of the worst bus accidents in the history of Uttarakhand, at least 48 people were killed and 11 got injured after a private bus they were travelling in plunged into a 60-meter-deep gorge in Dhumakot tehsil of Pauri district on Sunday morning.
德哈达顿:星期日上午,一辆私人巴士在保里区的德胡马孔乡跌入60米深的峡谷,造成至少48人死亡,11人受伤,这是北阿坎德邦史上最严重的客车事故。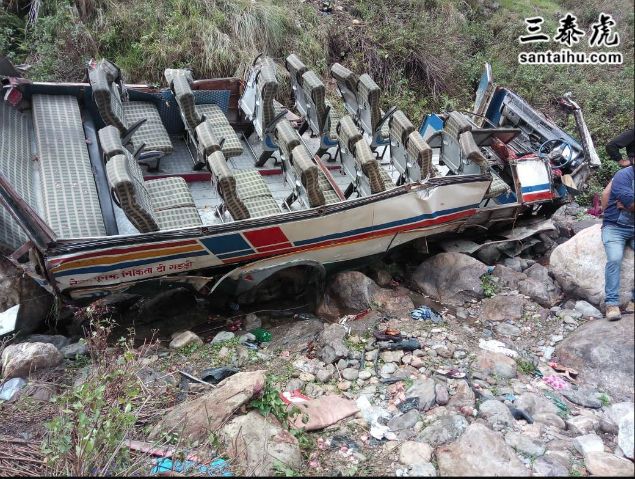 The 28-seater bus carrying 58 persons was on its way to Ramnagar in Nainital district when the fatal mishap took place on Pipli-Bhaun motor road at around 8:40am.
这辆载有58人的28座巴士,于上午8时40分左右在皮普利-巴翁汽车道发生致命事故,当时巴士正开往奈尼必达地区的拉姆纳加。
Giving details, senior superintendent of police of Pauri Jagat Ram Joshi told TOI, "There are 47 confirmed casualties in the accident and 11 persons got injured, who have been taken to hospitals in Ramnagar and Haldwani for treatment. The seriously injured are being air lifted to Dehradun."
保里警察局的高级警司拉姆·乔希向《印度时报》透露了细节:"事故中有47人确认死亡,11人受伤,伤者已被送往拉姆纳加和哈德瓦尼的医院接受治疗,严重受伤的人被空运到德拉顿。"
The State Disaster Response Force and Pauri police rushed to the spot and launched a rescue and relief operation. From Dehradun, DIG Garhwal Pushpak Jyoti and additional SDRF team also left for the accident spot in a chopper.
北阿坎德邦的灾害应对部队和保里警方赶到现场,展开了救援行动。德拉顿等地的灾害应对部队也乘坐直升机飞往事故现场参与救援。
While expressing grief over the accident, chief minister Trivendra Singh Rawat announced Rs 2 lakh each to kin of victims who lost their lives in the accident and Rs 50,000 each to the injured persons.
首席部长特瑞万德拉·辛格·拉瓦特在对事故表达悲痛之情的同时,宣布将向在事故中丧生的遇难者家属和伤者分别发放20万卢比和5万卢比的赔偿金。
印度时报读者的评论:
原创翻译:三泰虎 http://www.santaihu.com/45439.html 译者:Joyceliu
外文:https://timesofindia.indiatimes.com
Shankarnarayan Sarma
11146
Shankarnarayan Sarma-Ghaziabad(UP)-1 day ago
A great tragedy. May god bless the departed souls rest in peace.
大惨案啊。希望神佑护这些灵魂,让他们安息吧。
Ankit
6764
Ankit-21 hours ago
28 Seated bus carrying 58 people. And that too in hilly treacherous roads. We Indians have no respect for laws or life....Feel so sorry for the precious lives lost....RIP....
荷载28人的巴士搭载了58人。况且还是开在山路上。我们印度人真的对人命毫无忌惮。为这些可怜的人感到遗憾。安息吧。
Arvind Arvind-Delhi-23 hours ago
Shame on such people who never come out of their narrow mind set they see opportunity to their utter nonsense. I belong to this area and use same road to reach my village it is very narrow road and hills are very fragile. Land slides are common and in rainy season it is hard to drive on this road. Who rules there is not question. It is time to show sense and Sympathy to family those suffered.
为从未跳出自己狭隘心胸的人感到羞耻,他们总是抓住机会说些废话。我属于这个地区,去我的村庄也是同样的路,那是一条很窄的路,山体也很脆弱。雨季经常发生山体滑坡,在这条路上开车非常难。跟谁统治没有关系。是时候对那些遭受苦难的家庭表示理解和同情了。
Swami Babananda
7262
Swami Babananda-23 hours ago-Follow
Overloaded bus unlicensed driver and rubbish road. It''s chalta hai in this third world country.
超载巴士,无证司机和垃圾路面。这就是第三世界。
ALI KHAN
1359
ALI KHAN-In the hearts..-21 hours ago-Follow
Rs 200,000 for next of dead and Rs 50,000 to injured, this is where disasters management start and end.... next day you will find overloaded vehicles with all permissions and approvals from ...... Police, Netaji and so on and so forth.
死者20万卢比,伤者5万卢比,这就是灾难管理的一切了。明天你还会发现手续齐全的超载车辆。
N O T A
3535
N O T A-Chennai-22 hours ago-Follow
no value for life in this country...40 lives gone...2 lakhs compensation...matter closed....next accident
在这个国家里,人命是不值钱的。40条人命没了,才20万。然后不了了之,直到下一场事故再次发生。
Anonymous Anonymous-bangalore-8 hours ago-Follow
The roads in uthrakhand,himachal are really narrow where accidents are happening pretty frequently .. roads are in urgent need to be broaden to save lives.
北阿坎德邦的道路真的非常狭窄,经常发生事故。为了保障人民的安全,应该立即加宽道路。
Kunj Bhardwaj
3800
Kunj-Gurugram-15 hours ago-Follow
Putting concrete barriers on hilly area roads should be a priority for the state go nment.
北阿坎德邦政府现在应该马上在山区道路上设置水泥栅栏。
Financial Advisor
1357
Financial-Mumbai-21 hours ago-Follow
how come i. 28 seater bus we had 30 people extra...this could be the reason for accident...
荷载28人的巴士怎么会超载30人那么多?这就是事故的原因。
Ps Murthy
2770
ps murthy-Ingeku-22 hours ago-Follow
A 28 seater bus carrying 58 persons!!! This was bound to happen. Why the Traffic Police doesn''t penalise these Bus drivers and their owners?
荷载28人的巴士,搭载了58人。这种悲剧注定发生。为什么交通警察没有处罚这些司机和车主呢?
ES Shine
820
ES Shine-Mumbai-22 hours ago-Follow
UKhand has BJP gt now. What are they doing? Cant they at least provide better roads and safety to the people of Uttarakhand?
北阿坎德邦现在是人民党当政。他们做了啥?他们就不能起码修建好一点的道路,为北阿坎德邦的民众提供一些安全保障吗?
Makdxb
14118
Makdxb-INDIA-1 day ago-Follow
The bus has capacity of 28 and the casualties of 45!! Was the bus overloaded as the commissioner the casualties may rise? This has to be thoroughly investigated as it seems the driver may have lost control because of overloaded. It is very tragic as 45 people lost their lives. Condolence to the families of deceased
巴士荷载28人,死伤45人!公共汽车超载了吗?这需要彻底调查,司机似乎因为超载失去对车辆的控制。45人丧生,太惨了。向死者家属表示哀悼
Baldevbhai Panchal
4721
Baldevbhai-18 hours ago-Follow
Is it not that the over loading was one of the cause for the driver to lose control?
超载不就是司机是去对车辆控制的原因之一么?
Mohankumar Venkatarnappa
3146
Mohankumar-20 hours ago-Follow
bus accidents of this type have become common in hilly areas .it is time to conduct psychological tests on public carrier drivers in hilly areas to preempt any terror related issues or mental issues..a lot of terror related vehicle trampling are happening across the world.
这类客车事故在山区已经司空见惯了。是时候对山区客运车辆的司机进行心理测试了,看看有没有行动和精神问题混杂其中。世界各地都发生过很多行动相关的车辆惨剧。
GOPINATH BHARATH
210
Goath-21 hours ago-Follow
the best reason is co ption of the go nment employees, no accountability, no responsibility, no patriotism the saga going on for many years.we need the toughest rulers with bravery.....any chance......
最大的原因在于政府雇员的,没有制,没有责任心,没有爱国精神,多少年来都是这样。我们需要勇敢的最坚韧的领导人。
Nav Ruhmaa
2564
Nav Ruhmaa-22 hours ago-Follow
That''s why i repeatedly say india will remain a third world country or even 3rd class ......... overloaded bus unlicensed driver and rubbish roads .....and deaths ........ but our agni missile can hit .......
那就是我为什么总说印度还只是第三世界国家的原因。超载的客车,没有驾照的司机,还有烂透了的道路,但是我们的烈火导弹(火神阿格尼)能够打败。
Ruder Kour
28
ruder kour-23 hours ago-Follow
Shame on india and its people, who ve curropt people to power
真为印度和印度人感到羞耻,他们投票选出了上台执政。
SHREENEDHE ACHARYA
1077
Shreenedhe Acharya-23 hours ago-Follow
Transport department in the country needs major overhaul. PM must see our mails regularly. Most corrupt department in the country run by brokers and commission agents such that any vehicle you can get registered without actually taking the vehicle. Less ssid the better.
印度的交管部门需要全面检修了。总理必须顶起审阅我们的邮件。大多数的部门都是由中介和代办机构管理的,你都不用把车开过去就能备案登记了。少说话多做事吧。
Venkat Vasu
640
Venkat-20 hours ago-Follow
In hilly roads more than permitted intake passengers should be avoided for safe journey. The Driver and bus owner are responsible for such accidents.Gt may take severe action on the erring crew.
为了旅途安全,应该避免在山路上超载的。司机和车主都要为这种事故负责。政府部门也应当对犯错的工作人员采取严厉措施。
Stud Baker
7496
Stud Baker-20 hours ago-Follow
The owner of the bus should be hanged even if it is the fault of the driver. These greedy bus owners take more passengers than allowed. A bus with a seating capacity of only 28 carrying 58passengers??!?! Gross negligence and violation.
巴士的车主应该被绞死,就算这是司机的责任也一样。这些贪婪的车主总是多揽客。巴士荷载28人,却搭载了58人??!!这是严重疏忽和违规行为。
Sunil Gosain
813
Sunil-22 hours ago-Follow
Striving to explore moon and Mars, but ignoring basics like safe roads, potable water, hunger. Human life is very ch.
我们努力探索月球和火星,却忽视了最基本的道路安全、饮用水安全和饥饿问题。人命如草芥啊。
Vidyanand Shetty
11393
Vidyanand Shetty-23 hours ago-Follow
sometime i feel there is value for human lives.. we sometime make so much noise abt some deaths, but here 40 lives and counting and no discussion and not much noise.. are these 40 people less important..
有时候我觉得人命太不值钱了。我们有时候对死了几个人就吵吵嚷嚷,但这可是40条人命呐,我们反而沉默了。这40个人就不重要么?
Sumit Mahajan
161
Sumit-Ghaziabad-5 hours ago-Follow
Very sad news! high time we did something about our licensing laws. Else this will keep happening.
这个新闻太惨了!我们是时候对特许经营法做点改变二楼。不然这种事还会继续发生的。
Vitusowen Susngi
4559
Vitusowen Susngi-shillong-16 hours ago-Follow
The powers that be are busy playing musical chair while the development come to a stand still. And this is what happened..
当权者忙着玩抢椅子的游戏,而发展停滞不前。所以这种事注定会发生。
Hemanth Pai
9711
Hemanth Pai-22 hours ago-Follow
Poor condition of the vehicles/roads, overloading,rash & over speeding are some of the causes for such tragic accidents.
车况不佳,超载,莽撞,超速,都是这起交通事故的原因。
Pni Raj
671
Pni-22 hours ago-Follow
Safety always takes the last seat in our country. We have to blame ourselves also as we never follow the rules, those who do follow are minimal in number, therefore there is no option but to generalise. Do we have the courage even to question those who flout the rules?
在印度这个国家,安全永远排在末位。我们必须反思一下我们自己,我们从不遵守规则,愿意遵守规则的人屈指可数,所以我们只能被逼随大流。我们甚至连质疑藐视规则的人的勇气都没有吧。
Michaelalok
11924
Michaelalok-22 hours ago-Follow
IT'S A GREAT TRAGEDY. MY HEART GOES WITH NEAR & DEAR ONES OF THE VICTIMS. RIP. WISH GOD BE WITH THOSE INJURED & WISH THEM A SPEEDY RECOVERY
这是一起惨剧。我的心和受害者的亲友一样悲痛。安息吧。希望神与那些伤者同在,希望他们早日康复。
Ginger Guru
1031
Ginger Guru-Pluto-23 hours ago-Follow
The driver must be a fan of Messi. After the sad knock out of world cup, he took this brave decision and gave a free trip for his passengers to heaven. Hehehe....
司机肯定是梅西的球迷,被世界杯狠狠打击了,就鼓起勇气下定决心,带上乘客一起上了天堂,呵呵呵
Ak
553
Ak-4 hours ago-Follow
Why transport authority is slee , why not they control overloading .
They should ply more buses to avoid such accidents .
为什么交管部门整天昏昏沉沉,不对超载问题进行?
他们应该多配置一些客车,避免这种悲剧。
Sagar
8658
Sagar-19 hours ago-Follow
Man made tragedy to a large extent ! Very unfortunate accident . My sincere condolences to the bereaved . How and why a bus having 28 seat capacity should carry 58 people that too on such a narrow and ghat road ? corrupt and lethargic authorities and greedy bus management are culprits . Can any one who is responsible for the loss of life bring back lives lost ? We have very little respect for human lives.
这在很大程度上是人祸!这场事故太不幸了。我向那些是去亲友的人表示哀悼。一辆荷载28人的车怎么会、为什么会搭载58个人在狭窄崎岖的山路上行驶?无能的部门和贪婪成性的客车管理者是罪魁祸首。对这起事故负有责任的人,能把逝去的生命带回来么?我们对人的生命太不尊重了。