Mumbai plane crash: Aircraft did not have a certificate of airworthiness
孟买飞机坠毁:飞机未获适航性证书
MUMBAI: A 26-year-old charter aircraft, on its way to a landing at Juhu airport during a test flight, crashed into open space near a construction site in the crowded Mumbai suburb of Ghatkopar on Thursday afternoon, killing all four crew members and a labourer on the ground. Had the King Air C90 aircraft, which appeared to have lost control when it was around 700 feet over the ground, plunged into any of the highrises in the surroundings, it would have been a major tragedy.
孟买:周四下午,一架26年机龄的包机在降落至珠湖机场的试飞途中坠毁在人口密集的孟买郊区加特克帕一个建筑工地附近的空地上,机上四名机组人员和一名地面工人全部遇难。国王航空公司的C90飞机在距离地面约700英尺时失去了控制,如果飞机一头扎进周围任意一栋高楼,那将引发一场大悲剧。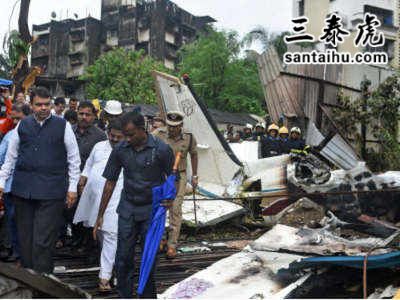 Both pilots, Capt Pradeep Rajput and Capt Maria Zuberi, along with aircraft maintenance engineer Surabhi Gupta and junior technician Manish Pandey died on the spot. A construction labourer, Govind Dubey, was killed in the fire that broke out when the jet fuel tank exploded. At least 35 workers, who were on a lunch break in the basement of the under-construction building, had a lucky escape.
飞行员普拉迪普·拉杰普特上校、玛丽亚·祖贝里上校、飞机维修工程师苏比希·古普塔和初级技术员曼尼什·潘迪都当场死亡。一名建筑工人葛文德杜贝被喷气燃料箱爆炸引发的火灾烧死。至少有35名工人幸免于难,他们当时正在这栋在建建筑的地下室里吃午饭。
Two of the labourers who were on the ground floor were injured. The aircraft, which was on its first flight after being grounded for around nine years, is suspected to have crashed due to mechanical failure. The pilots gave out no distress message or "Mayday" call to Mumbai airport's air traffic controller. Around 1.10 pm, onlookers along Jivdaya lane saw the plane coming down engulfed in flames.
有两名当时身在一楼的工人受伤。此次是这架飞机在被停飞大约9年后的首次飞行,人们怀疑飞机是由于机械故障而坠毁。飞行员并没有向孟买机场的空中交通管制员发出遇险电报或求救信号。下午1点10分左右,吉达雅车道上的旁观者看到飞机被火焰吞没。
"We were waiting for an autorickshaw when we saw a burning plane falling. It all happened so suddenly. Within seconds it crashed and was engulfed in smoke," said Nami and My Shah, two teens who live nearby.
"我们当时正在等三轮车,这时我们看到一架飞机冒着火掉下来。这一切发生得如此突然。几秒钟后,飞机就坠毁了,淹没在滚滚的浓烟中。"
Nami and My Shah, two teens who live in Girdhar building near the crash site, said, "We heard three blasts one after the other." The twin-engine turbo prop had departed for a 50-minute test flight from Juhu airport at 12.20 pm after a puja. Sources from Mumbai and UP said it was the first time the aircraft had taken flight after suffering severe dge in a crash in Allahabad in 2009.
娜米和马来沙阿住在坠机地点附近的吉达尔大楼,他说:"我们听到了三次爆炸声。"这架双引擎涡轮螺旋桨飞机在仪式之后,于下午12点20分从珠湖机场起飞,进行了50分钟的试飞。来自孟买和北方邦的消息称,这是这架飞机在2009年在阿拉哈巴德发生严重碰撞后的首次复飞。
"It was owned by the UP go nment and the cabinet decided to dispose it of than spend heavily to repair it," said a former UP go nment offi al. The aircraft was finally sold in 2014—after three unsuccessful auctions— to a Pune-based company, which then sold it to Mumbai-based U Y Aviation Pvt Ltd, its current owner.
一名前高级政府官员表示:"这架飞机属于北方邦政府,内阁决定将其处置,而非花重金将其修复。"在经过三次流拍后,这架飞机最终在2014年出售给了一家位于普纳的公司,这家公司随后将飞机卖给了总部位于孟买的UY航空有限公司。
Anil Chauhan, accountable manager of UY Aviation, said the aircraft was in "the hangar of a maintenance company, Indamer, for over a year and a half, undergoing major repairs. When asked when was the last time it flew, he said, "It was earlier with the UP go nment and must have flown about six years ago''.
UY航空公司负责任的经理阿尼尔•肖汉表示,这架飞机"在Indamer维修公司的机库里待了一年半,进行重大维修"。当被问及最后一次飞行时间是什么时候时,他说,"是在北方邦政府早期时期,应该是六年前。"
"Though we have ownership of the aircraft, it was under the care of Indamer company. The aircraft was not yet handed over to us, it did not have a certificate of airworthiness,'' said Chauhan. The take-off was captured on camera by Indamer engineers — the video is doing rounds on social media — and one can hear applause as the aircraft lifts off the runway.
肖汉称:"虽然我们拥有这架飞机,但它是由Indamer公司管理的。飞机还没有移交给我们,它还未取得适航证书。"飞机起飞时,Indamer的工程师们用摄像机捕捉到了一段视频——在社交媒体上疯传——视频中飞机从跑道上起飞,可以听到人们的掌声。
As it slowly climbs out, an onlooker encouragingly shouts "C'mon baby''. Rajeev Gupta, CEO of Indamer, said the cause of crash is under investigation by the DGCA safety wing. The ill-fated flight left several unanswered questions. Said a senior commander, who is also a KingAir C-90 examiner: "Test flights shouldn't be carried out in poor weather. It was raining heavily in Mumbai when the aircraft lifted off, that isn't an ideal condition, the test flight should have been postponed."
当飞机慢慢腾空的时候,一个旁观者激动地叫到"加油,宝贝"。Indamer首席执行官拉杰夫•古普塔表示,印度民航总局的安全部门正在对事故原因进行调查。这次不幸的飞行留下了几个悬而未决的问题。一位同样是国王航空 C-90的高级指挥官说:"试飞不应该在恶劣的天气下进行。当飞机起飞时,孟买下着大雨,这种天气情况并不理想,应该推迟试飞。"
印度时报读者的评论:
原创翻译:三泰虎 http://www.santaihu.com/45413.html 译者:Joyceliu
外文:https://timesofindia.indiatimes.com
Rajeev Bangalore
463
Rajeev-13 hours ago
this is India.... you can't ride a car without a proper licence but you can fly an aeroplane without an air worthiness certificate over a populated area.
这就是印度。。。没有合格的驾照,不能开车,但是没有适航证书却能在人口密集区飞行。
Logic
4050
Logic-13 hours ago-Follow
another example of corrupted lazyaasss indians who don't care about rules and regulations
这是*懒惰的印度人目无法纪的又一个例证
Prasad Kulkarni
262
Prasad-13 hours ago-Follow
So airplanes without an airworthiness certificate can fly over cities? Its like driving a car without licence on a highway.
What a big loophole is this. Just imagine if this aircraft had crashed near railway station or a busy market.
没有适航证书的飞机可以在城市上空飞行吗?这就像在没有执照的情况下在高速公路上开车。
这是一个多大的漏洞啊。试想一下,如果这架飞机坠毁在火车站或繁忙的市场附近会有多可怕。
RAJIV AHUJA
106
RAJIV AHUJA-9 hours ago-Follow
In India you can''t drive 15 years old car but you can fly 25 years old plane, that too without fitness.
在印度,你不能驾驶15年车龄的汽车上路,但却可以驾驶25年机龄的飞机,这也太不合理了吧。
Roshan P Roshan P-13 hours ago-Follow
RIP. The labourer...who died...must not have ever travelled in an airplane. But died in a aircrash.
安息吧。这个不幸丧命的工人……肯定都没坐过飞机。却在空难中丧命。
Vihin
14805
Vihin-Nihiv-13 hours ago-Follow
It is unwritten rule that anything coming out of UP has to be disastrous. Be it plane, leader or news.
有一条不成文的规则,那就是北方邦发生的任何事情的都是灾难性的。无论是飞机、领导还是新闻。
Avinash Chidare
86
Avinash Chidare-13 hours ago-Follow
Forget about the certificate. The first question that should come to pilots mind is safety of flying that bird. We indian''s don''t take Safety seriously. Very unfortunate to die this way
别提证书了。飞行员应该想到的第一个问题就是安全操控飞机。我们印度人不把安全当回事。这样的死法是很不幸的。
Kalmokta Banchanbali
270
Kalmokta Banchanbali-Chataak Gaanch Noonay-13 hours ago-Follow
Cool .. this will be the last but one news about this ... now DGCA will wake up and issue angry assertions that everything is al .. or the company forged papers .. and then silence
酷...这将是最后一条这样的新闻。现在印度民航总局会愤怒澄清说一切都没问题,或者公司会伪造证书。然后就不了了之。
Indiankitty
4070
Indiankitty-8 hours ago-Follow
It must be made mandatory that a plane without a certificate of airworthiness, should carry only po iticians. Problem solved.
必须强制规定,没有适航证书的飞机只能搭载政客。这样问题就解决了。
Someone With Brain
14487
someone with brain-11 hours ago-Follow
This accident represents state of affairs of Indian go nment. No wonder India is a failed nation.
这次事故说明了印度政府的现状。也难怪印度是这样失败的国家。
Altaf Hyder
14299
Altaf-Bangalore-11 hours ago-Follow
How stupid it was a test flight that took off in poor weather after 9 years being idle ! Absolutely no regard to safety.
这次试飞太蠢了,在闲置了9年之后,居然挑了个恶劣天气试飞! 真的完全没有考虑过安全问题。
Ashish Bandyopadhyay Ashish-9 hours ago-Follow
Govt had banned 15 yr old patrol vehicles & 10 yr old diesel vehicles. However, allowing 26 yr old aircrafts to fly.
政府禁止15年车龄的旧巡逻车和10年车龄的旧柴油车上路。但却允许26年机龄的旧飞机上天。
Sanevoice Sanevoice-Earth-9 hours ago-Follow
If it was not airworthy why was it being tested in densely populated areas? Flight path should have been on Arabian Sea.
如果不适合飞行,为什么要在人口密集地区进行试飞呢? 飞行路线应该选在阿拉伯海才对。
Nk Verma
1953
Nk-New Delhi-11 hours ago-Follow
So simple to write " Aircraft did not have a certificate of airworthiness" but who's responsible & who gave the green signal to fly ??. So many precious lives lost. Very sad.
轻描淡写的一句"飞机没有适航证书"非常简单,但谁需要负责,谁给了绿色飞行信号? 这么多条鲜活的生命消逝了。非常难过。
Anthony
4539
Anthony-goa-8 hours ago-Follow
It's sad should not have tested a aircraft during rains what was so much hurry
太惨了,雨下得这么急的时候不该试飞的
ONE LINER Challenge
9795
ONE LINER Challenge-13 hours ago-Follow
THIS IS POSSIBLE ONLY IN INDIA- THE REGULATORS SHOULD HAVE CENSUS OF ALL CRAFTS IN INDIA WITH DETAILS OF CERTIFICATION BEING UPTODATE- OR ATC ALERTED LIKE A RED FLAG.THIS IS PATHETIC
这种事只可能发生在印度——监管机构应该对印度的所有飞机进行调查,并将详细信息公布出来——或者航空交通管制应该发出警告。可悲。
Harjot Singh
7868
Harjot Singh-13 hours ago-Follow
2 Males and 2 Female passengers (Crew) as it seems were on board. Was it a test flight? Or a joy ride gone wrong?
机上的机组人员中似乎有两男两女。这是试飞?还是兜风兜出事故了?
Sudhir Sudhir-Bangalore-13 hours ago
How come the Govt sold the which is not fit for flying . They shuould have scrapped it or kept as a show piece
为什么政府要卖掉不适合飞行的飞机?他们应该将它报废,或者当做展览品
XXXYYYZZZ
194
XXXYYYZZZ-9 hours ago-Follow
BJP Govt civil aviation ministry responsible.
人民党政府的民航部应该对此事故负责。
Nad Nks
44
Nad-Mumbai, Maharashtra, Ind-9 hours ago-Follow
Cor ion has made a crash , what about insurance of such person who dead in this accident..
*腐化已成严重的问题,事故中丧生的人的保险怎么处理呢?
aki Banerjee
1094
aki-NYC-12 hours ago-Follow
Of it did not have an air worthiness certificate how come ATC allowed ot to fly?? I believe you need an airworthiness even for a test flight.
没有适航证书,为什么航空交通管制部门允许飞机飞行?我相信就算是试飞,也需要适航性证明吧。
Ravinder Nath Babbar
1590
Ravinder Nath Babbar-5 hours ago-Follow
Where airport authorities are slee. Who cleared it for take offf
机场当局正在睡觉呢。谁批准它上天了?
Crazyfrog
953
Crazyfrog-7 hours ago-Follow
the plane was auctioned instead of going into scraps.??? why UP go nment
这架飞机被拍卖,而非报废。北方邦政府为什么要这么做?
Juntao67
5835
juntao67-Location-8 hours ago-Follow
Many people commenting over here have not been even close to an airport, yet are commenting on how the plane was flying without a certificate.
许多在这里说三道四的人连机场的大门都没靠近过,却在评论飞机没有证书怎么能飞行。
Raju Raju-Shangai-9 hours ago
This can happen to any aircraft after repairs. Hope citizens living in close promity to runways have seen the unseen risk.
任何飞机在维修后都可能会发生这种情况。希望住在跑道附近的市民意识到这种看不见的危险。
Robin Pandey
5829
Robin Pandey-Hyd-9 hours ago-Follow
How the hell the airport allowed it to be airborne? Is it Nehru''s fault too?
机场究竟是怎么放行的?这也是尼赫鲁的错吗?
Avik Dasgupta
655
Avik-11 hours ago-Follow
It is criminal offence to allow such aircraft to fly over dense Mumbai population. All directors of this company must be arrested..
让这样的飞机飞越孟买的人口密集地区就是一种犯罪行为。这家公司的所有董事都应当被逮捕。
Bharat Mata Ki Jai
23314
Bharat mata ki jai-India-12 hours ago-Follow
This is example of good governance jumla getting busted
这就是善政廉政走向没落的例子。
Ekdesi
24078
ekdesi-USA-12 hours ago-Follow
What do you expect? Gutka baron owns that plane. He bought it from state govt and must be having high connections to run it without following any rules and regulations.
你还指望什么呢?古特卡·巴伦拥有那架飞机。他是从邦政府手中买到的,他肯定有深厚的关系才能够不遵守任何规章制度就能运营。
Gsn Murthy
10757
Gsn Murthy-Rajahmundry-7 hours ago-Follow
Repeat of same story. Unworthy air craft, unworthy and overloaded bus, unworthy overloaded auto ending up with accidents in many cases. The poor traveling public never can evaluate the risk factor nor the regulator / controllers ever do it prior to giving license to operate them. We all raise voice for a couple of days and bury the tragedy to history.
又是一样的故事不断重演。不适航的飞机,不适合上路的超载的公交车,不适合上路的超载的汽车,在很多情况下都会导致事故。穷苦的公众旅行时没法评估风险因素,也从来没有监管者/管理者在发证之前好好评估过风险。我们都要大声疾呼,将这一悲剧埋葬在历史的废墟中。