China Wants India To Make Peace With Pakistan. It Won't Work
中国希望印度与巴基斯坦和解,这是不可能的
China wants to help ease the long-standing conflict between India and Pakistan. And it has a plan for it.
中国希望帮助缓解印度和巴基斯坦之间长期存在的冲突。对此中国做了一个计划。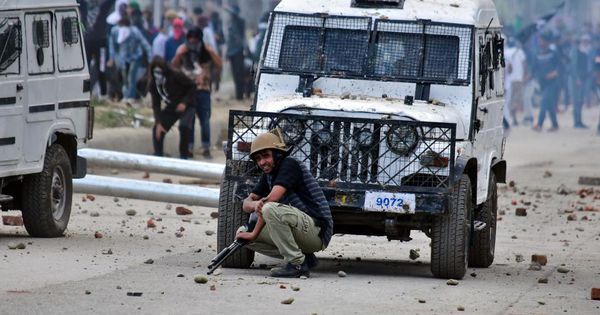 Last June, Beijing paved the way for the two countries to join the Shanghai Cooperation Organization (SCO), a Eurasian political, economic and security organization founded by China, Russia, and a number of other Central Asian counties.
去年6月,北京为两国加入上海合作组织(上合组织)铺平了道路。上海合作组织是由中国、俄罗斯和其他中亚国家建立的欧亚政治、经济和安全组织。
This year, Beijing wants military personnel from both countries to participate in counter-terror exercises under the "Peace Mission 2018."
今年,北京方面希望两国军事人员共同参加"2018年和平使命"反恐演习。
There's an official reason behind Beijing's plan. The easing of conflict will foster economic ties between the two countries, the same way easing of tension between China and the US in the 1970s fostered economic relations between the two countries.
北京的计划背后有一个官方原因。两国间冲突的缓和将促进两国之间的经济联系,就像上世纪70年代中美关系的缓和促进了两国之间的经济关系一样。
But there are a couple of unofficial reasons, too.
但也有一些非官方的原因。
One of them is that easing of tensions between the two countries will serve China's efforts to complete building of the China-Pakistan Economic Corridor (CPEC).
其中之一是,缓和两国紧张关系有利于中国完成中巴经济走廊的建设。
That's the express link between Western China, the Middle East, and Africa -- China's second continent. Ideologically that is, which can explain why Beijing has committed $46 billion to the project.
那是连接中国西部、中东和非洲—中国的第二个大陆—之间的直接通道。从意识形态上讲,这可以解释为什么中国承诺要投入460亿美元。
The trouble is that CPEC passes through Pakistani regions claimed by India. That makes it a rough road, to say the least -- Pakistan and India continue to fight for control of these regions. That's why China needs India to make peace with Pakistan.
问题在于中巴经济走廊会经过印度宣称拥有主权的巴基斯坦地区。这使得这条走廊是一条艰难之路——巴基斯坦和印度一直在为这些地区的控制权而战。这就是为什么中国需要印度与巴基斯坦和解。
Another reason Beijing wants to see peace between the two countries is to find a market for its products. Especially as tensions between China and the US escalate.
北京希望看到两国和平共处的另一个原因是为中国商品找到市场。特别是中美之间的紧张局势持续升级。
"China has always believed in an economic solution to solve the world's challenges," says Vijay Eswaran, Malaysian entrepreneur and Chairman of QI Group of Companies. "In that context China may be willing to play a role in potentially improving ties between India and Pakistan"
马来西亚企业家、QI集团董事长维贾伊•埃斯瓦兰表示:"中国一直相信经济解决方案能解决世界面临的挑战。在这种背景下,中国会愿意为改善印度和巴基斯坦之间的关系发挥作用。"
"The ongoing trade threats from US to China encourages the latter to find a new big market. And India, the largest markets for Chinese goods outside of the US is right in its neighbourhood."
"美国对中国持续不断的贸易威胁会让中国寻找一个新的大市场。而印度是中国商品在美国以外最大的市场,而且就在中国周边。"
That's why Beijing wants to use its leverage with Pakistan to ease conflicts between the two countries.
这就是为什么北京希望利用其对巴基斯坦的影响力来缓解两国之间的冲突。
But it won't work, for a couple of reasons. One of them is that the two countries have a different perception regarding what 'terrorism' consists of.
但这是行不通的,原因有几个。其中之一是,两国对"恐怖主义"的构成有不同的看法。
Another reason is that China has, so far, done very little to satisfy India. Quite the opposite: repeatedly blocking India's efforts to join the Nuclear Supplier Group (NSG).
另一个原因是,到目前为止,中国在满足印度方面做得很少。恰恰相反:中国一再阻挠印度加入核供应国集团。
And it has sided openly with Pakistan in the India-Pakistan Kashmir standoff, as evidenced by statements by China's senior officials on the sidelines of United Nations General Assemblies.
中国在印巴克什米尔对峙中公开站在巴基斯坦一边,中国高级官在联合国大会期间发表的声明就是明证。
Then there's India's siding with the US in the South China Sea disputes.
此外,在南中国海争端中,印度站在美国一边。
The bottom line: Beijing has a long way to go before it can bring India and Pakistan to the table and ease long standing conflicts between the two countries.
最主要的是:在把印度和巴基斯坦带到谈判桌前,缓解两国之间长期存在的冲突之前,北京还有很长的路要走。
来源:http://www.santaihu.com/45372.html
文章:https://www.forbes.com/sites/panosmourdoukoutas/2018/06/22/china-wants-india-to-make-peace-with-pakistan-it-wont-work/#5de1eaf54a4a
美国雅虎读者的评论:
lovemykids5 hours ago

keep divided and sell arms.

继续分裂,才能卖得动军火啊
Frank6 hours ago

At least they are trying and pushing in the right direction.

至少他们正在努力朝着正确的方向努力。
factswelcome6 hours ago

I wonder why Panos Mourdoukoutas is so NEGATIVE about the peace prospects between India and Pakistan?
China or no China, wouldn't peace between nations more beneficial to the people of both nations, Mr, Panos Mourdoukoutas ?? Shouldn't NORMAL "columnist" endorse peace?

我想知道为什么Panos Mourdoukoutas对印度和巴基斯坦之间的和平前景如此悲观?

无论有没有中国从中斡旋,这两个国家之间的和平对两国人民没有好处么?Panos Mourdoukoutas先生?正常的"专栏作家"不应该支持和平吗?
Slop6 hours ago

China should make peace with Taiwan

中国应该和**讲和
Good6 hours ago

Peace is the only way forward for both Pakistan and India. And thumbs up for China for taking the initiative that no other Global Power has even bothered to take in the past. Thank you China. You are a true Leader of the New World.

和平是摆在巴基斯坦和印度面前的唯一道路。我对中国采取的主动很赞赏,这是以往任何一个全球大国都不敢做的。谢谢中国。你是新世界的真正领袖。
Anon6 hours ago

First things first. China should give back to India the part of Kashmir that Pakistan gave China

凡事都有轻重缓急。中国应该把巴基斯坦让给中国的克什米尔地区归还给印度
factswelcome6 hours ago

India and Pakistan have been engaged in mutual denigration through false narratives. False accusations and hatred have been cultivated on purpose for eons, perpetrating a conflict that is close to 70 years old.
Such negative state has been made possible because of lack of normal contacts.

印度和巴基斯坦一直通过编瞎话来相互诋毁。无数个世纪以来,人们故意捏造了错误的指责和仇恨,导致了近70年的冲突。

由于缺乏正常的接触,这种消极状态已经成为可能了。
Tomtom6 hours ago

China wanted to replay USA and Western countries to play an important role in the world.

中国希望重演美国和西方国家在全球局势中扮演的重要角色。
Michael Wan2 hours ago

Why it won't work? If you see what people want: peace, security, and development, you will know that what you should do. Freeze all the difference, work on common ground, walking toward each other. You have to start some where. Maybe Chinese brokerage is the beginning.

为什么行不通?如果你们留意人们想要什么:和平、安全和发展,你就会知道应该做些什么。摒弃所有的差异,在共同的基础上努力,走向彼此。你得试着开始。或许中国这个中间人是个不错的开端。
Prussia!5 hours ago

China should make peace in Taiwan first before they tell other countries to make peace. Second, they should only claim a FAIR amount of the South China Sea. 85% is not a fair amount.

中国应该先在**实现和平,然后再跟其他国家谈和平。第二,他们应该只在南海地区提合理比例的主权主张,85%是不公平的。
Jack4 hours ago

PEACE=US will lost money; no more war machine selling.

和平=美国将损失很多钱;不能再继续出售战争机器了。
Anonymous8 hours ago

I agree, make peace will not work....

我同意,和平行不通....
Sermsak6 hours ago

Even if it is a long shot, it's worth trying. Much better than fostering hatred and war.

即使机会渺茫,也值得一试。这要比滋生仇恨和战争好太多了。
wow4 hours ago

It will not work since no profit for our politicians and military industrial complex!!!

这是行不通的,因为这对我们的政客和军事工业综合体没好处!!
A Dog6 hours ago

It won't work because the evil anglo-zionazis will not let it work.

这是行不通的,因为邪恶的英格兰-齐奥纳孜人不会让它成功的。
hololi6 hours ago

The only successful solution China has provided to the world is the Sino-Tiban solution; occupy your neighbor.

中国向世界提供的唯一成功解决办法是汉藏解决方案;侵占你的邻居。
---2 hours ago

China built the GREAT WALL, to keep out Terror, a thousand year ago. India has built a Thousand Mile long fence, AFTER 1948, to keep out Pak Terror.

中国在一千年前建造长城就是为了抵御恐怖。印度在1948年之后建造了1000英里长的围栏,也是为了防止巴基斯坦的恐怖袭击。
WHOCARES3 hours ago

That is what a world leader should do vs creating wars one after another.

这就是世界领导人应该做的,而不是一场接一场地制造战争。
Alex26 minutes ago

Well done, China, very well done indeed. Keep up with the good work and "Make China, India and Pakistan Strong, Prosperous and Great Again"

干得好,中国,干得好。继续努力,"让中国、印度、巴基斯坦再次强盛、繁荣、伟大"
Angry voter,6 hours ago

Its internal affairs of India so China should but out. The Chinese have one of the worse h an rights record.

这是印度的内部事务,所以中国应该放手。
Bob2 hours ago

Oh really? Yes sir I will sir master China who supports Pakisterroristan? Oh ok. Whatever.

哦,真的吗?是的,先生,支持巴基斯坦的中国? 哦,好吧。无论什么。
Olive4 hours ago

Enduring peace demises terrorism. Pease making is nobel work if China tried genuinely so. China , Pakistan and India should make arrangements like European neighbors. This region can serve the world.

持久的和平可以终结恐怖主义。如果中国真的这么做了,它能获得诺贝尔奖。中国、巴基斯坦和印度应该像欧洲邻国一样。这个地区可以为世界服务。
Captain4 hours ago

China needs to make peace with her neighbors first and stop stealing land.

中国需要首先与她的邻国和解,不再侵占别国土地。