Kottayam: Messi fan missing after Argentina loss, suicide ne found
科塔亚姆:梅西的球迷在阿根廷失利后失踪,人们找到他的遗书
KOTTAYAM: "Nothing is left in this world for me to see. I am leaving for the depth of death. Nobody is responsible for my death," said the ne written in Mym found in the bedroom of Dinu Alex, a die-hard fan of Lionel Messi.
科塔亚姆:"在这个世界上,我找不到任何属于我的东西。我要走向死亡的深渊。我的死与任何人无关。"在迪努·亚历克斯的卧室里发现的一封用马拉雅拉姆文书写的信中写道。亚历克斯是莱昂内尔·梅西的铁杆粉丝。
The 30-year-old from a small village, Arumanoor, on the banks of Meenachil River in Kottayam district has been missing ever since Argentina lost a group stage match to Croatia in FIFA World Cup. Police fear, the youth must have resorted to some extreme step following the repeated failure of his favourite star Messi. The Police and the Fire and Rescue unit have launched a search and rescue operation, mainly in the nearby Meenachil River. However, due to incessant rains, the water level has risen and there is strong currents, making search operations difficult.
自从阿根廷在世界杯小组赛上输给克罗地亚后,这位来自于位于科塔亚姆地区米纳基尔河边小村庄阿鲁玛诺的30岁青年就不见踪影了。警方担心,这位年轻人肯定是在他最喜欢的球星梅西再三失败后采取了极端措施。警方和消防救援队已经在附近的米纳齐尔河展开了搜救行动。然而,由于连绵不断的降雨,水位已经上升,水流湍急,使得搜寻工作变得非常困难。
According to Joice Joseph Kottathil, a relative of the youth, Dinu was an introvert and had very few friends. However, he followed all the major league football matches and was crazy about Messi. In one of his books it was found written as, "Messi, my life is for you, waiting to see you lift the Cup." In another place it is written, "My team is starting its journey, carrying my life. I will do it".
据这位年轻人的亲戚乔伊斯约瑟夫科塔希尔称,迪努是个内向的人,几乎没有朋友。但是,他关注了所有足球大联盟比赛,并为梅西疯狂。在他的一本书中,他写道:"梅西,我的生命就是为了你,等着看你举起奖杯。"他还在另一个地方写道:"我的球队开始了旅程,我的生命也将如影随形。我将这样做。"
Dinu's father P V Alexander has seen his son watching the match before he went to bed. But when he got up, it was the suicide ne which was waiting for him.
迪努的父亲PV 亚力山大在睡觉前看到他的儿子正在观看比赛。但是当他起床的时候,等着他的只有那份遗书。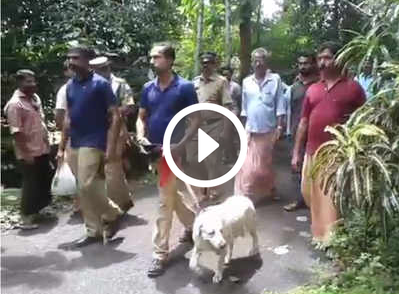 Dinu who is working as an accountant in a private firm in Kottayam had told his colleagues on Thursday evening that Argentina will win and his hero Messi will score goals. He had bought a jersey of Argentina on the way back home. He watched TV along with his parents till they went to sleep by 11.30pm. Though some of his friends called him after 1am when the match was over, the mobile was switched off. His mother Chinnamma who got up around 4.30am went and checked his room as light was switched on in his room. After not finding him, she woke up Alexander who searched his room and found the ne. Soon, Ayarkunnam Police were alerted.
迪努是科塔亚姆一家私人公司的会计,周四晚上他告诉同事阿根廷会赢,他的英雄梅西会进球。他在回家的路上买了一件阿根廷球衣。他和他的父母一起看电视,直到晚上11点半父母去睡觉。比赛结束后,他的一些朋友在凌晨一点后给他打过电话,但手机关机了。他的母亲钦娜姆玛4:30起床,看到他房间还亮着灯,就进他的房间看了看,但没找到儿子,她叫醒了亚历山大,他搜查了他的房间,发现了那张纸条。很快,阿亚昆纳姆警方接到了报警。
The jersey of Argentina and the cover of Dinu's mobile phone carrying the picture of Messi were found from his room. The Police sniffer dog ran form the backyard of the house to the river bank. The Fire and Rescue unit were called after this and diving experts began search. Police suspect that the mobile phone was used for its torchlight for walking to the river bank.
在他的房间里,人们发现了阿根廷队的队服和迪努的手机封面,屏幕就是梅西的照片。警方的警犬从房子的后院里跑到河边。消防和救援小组接到电话后,派出潜水专家开始搜寻。警方怀疑,这款手机被用作手电筒,在走向河岸的路上用来照路。
Dinu had a degree in BSc chemistry. He was also in the PSC rank list for the LDC post and was optimistic of landing a go nment job. According to Alexander, Dinu used to tell him that he will be ashamed to go out and face others if Argentina lose. His only sister is a nurse in Qatar.
迪努拥有化学学士学位。他很有可能获得政府工作感到乐观。亚历山大说,迪努曾经告诉他,如果阿根廷输了,他会觉得没脸出门见人。他唯一的妹妹是卡塔尔的护士。
Meanwhile, Ayarkunnam SI Anilkumar said that the probe is on and all possibilities are being probed. He also said that the search operations in the river for the day has been stopped due to adverse weather conditions and will resume on Saturday morning.
与此同时,阿亚昆纳的阿尼尔库玛说,调查正在进行中,正在调查所有的可能性。他还表示,由于恶劣的天气状况,当天对米纳齐尔河的搜救工作已经停止,将于周六上午继续展开搜救。
印度时报读者的评论:
来源:http://www.santaihu.com/45369.html
Rashmi NN
4773
Rashmi NN-1 day ago
Wait for the complete report." The person who faked his death to avoid paying the betting losses." Morons reporting half baked stories.
等着看完整的报道。这家伙为了躲避打赌输的钱而捏造了死亡。白痴报道的事实不完整。
Nitin Kapoor
946
Nitin-1 day ago
May you take birth in Argentina in your next life!!
希望你下辈子出生在阿根廷!!
Ramesh Babu
6891
Ramesh-1 day ago-Follow
Ker is football hub of India.
喀拉拉邦是印度的足球中心。
Ankit
6461
Ankit-1 day ago
Stupid mallu
愚蠢的家伙
Iqbal M Iqbal M-Mumbai-1 day ago-Follow
Crazy.What he would have gained if Argentina win or lose the match.Should have thought about the parents before taking steps.
疯了。不管阿根廷赢得或输掉这场比赛,他能得到什么。在行动之前应该考虑父母。
Kochu Krishnan
113
Kochu-1 day ago-Follow
Namo should resign accepting the responsibility of death and defeat. Namo's policies are the reason for the defeat of argentina.
莫迪应该辞职,担起死亡和失败的责任。莫迪的政策是击败阿根廷的原因。
Sami Kokni Sami-1 day ago-Follow
what if Argentina wins the world cup now ??
如果阿根廷现在赢得世界杯呢?
Indian
909
Indian-1 day ago-Follow
Can't blame this idiot, Mallus are football crazies,
extremists are found everywhere..
不能怪这个白痴,他是足球狂人,
到处都有极端分子. .
Santosh
1094
Santosh-1 day ago-Follow
Life is valuable one must not leave it for petty reasons
生命是无价的,不能随便放弃生命
Cool
11285
cool-1 day ago-Follow
Now modi will blame congress
现在莫迪将指责国大党了
Pragnesh Kanabar
106
Pragnesh-1 day ago-Follow
atleast he could have joined army and died at the border.. would have been a productive death
他可以参军,死在边关。这样起码还能算是死得其所。
St
1128
St-1 day ago-Follow
Stupid.Who will take care of your family? Messi ? Watch football as a game, may be in next world cup they may play well and you will not be there to watch.
太愚蠢了。谁来照顾你的家人?梅西吗?把足球赛当做一场游戏,也许在下一届世界杯,他们会踢得很好,而你已经看不到了。
Chaddis R Antinationals
5724
Chaddis R-Star-1 day ago-Follow
How an Indian can suicide for Argentina is he a psycho
一个印度人怎么能为阿根廷自杀呢,他是个神经病吗?
Abhimanyu Kohli
219
Abhimanyu Kohli-India-1 day ago-Follow
Sad. Should have not done it.
伤心。他不应该这么做的。
De tanu Das
994
De tanu-Siliguri,West Bengal-1 day ago-Follow
Very sad to hear ,about this news..Don't get too emotional about a loose..wng and loosing are part of game.
听到这个消息我很难过。不要对失败过于沮丧。胜利和失败都是游戏的一部分。
Soumadeep Bhattacharjee
16
Soumadeep Bhattacharjee-16 hours ago-Follow
Being a Argentine fan & a Messi fan I can understand his passion & love for team but this is not done.Wng & loosing are part & parcel of the game , a true sportsman never gets swayed by success or drowned by failure, sports teaches us to accept both of them.I am also a passionate Argentine supporter i also get mocked by my friends after after my team looses a match but that should be taken lightly.A sportsman is a fighter, he never looses hope,he comes back stronger.Argentina can still go through.We should always be optimistic both in the game and in life I feel pained for this guy & i pray to god that he is safe.
作为阿根廷球迷和梅西球迷,我能理解他对球队的激情和热爱,但这一切还没有结束。胜利和失败都是比赛的一部分,一个真正的运动员永远不会被成功所动摇,也不会被失败所打败,体育竞技教会我们平和的接受任何一种结果。我也是一位热情的阿根廷球迷,在球队输掉比赛后,我也被我的朋友们嘲笑了,但我们应该看淡一些。运动员是斗士,他从不会失去希望,他会以更强大的姿态重新出现在我们面前。阿根廷仍然可以小组赛出线。我们在比赛和生活中都应该保持乐观,我为这个家伙感到难过&我向神祈祷,护佑他安全。
Vincent Max
8054
Vincent Max-Mumbai-1 day ago-Follow
Messi didn''t commit suicide but this moron did
梅西没自杀,这个笨蛋倒是自杀了
Avinash Gupta
1164
Avinash-1 day ago-Follow
misguided youth
in sports victory and defeat are not fixed and that is the beauty of it.
It's very sad that this sort of fanaticism has taken his life.
He should have waited for another world cup.
Argentina has been a top ranked side and who knows Messi magic would have led them to massive victory ag inst Nigeria and qualify
I still hope he is rescued without any injury -hail and hearty
误入歧途的青年
在体育运动中,胜利和失败都不是一成不变的,这就是体育竞技之美。
这种狂热已经夺去了他的生命,真令人难过。
他应该再等下一届世界杯。
阿根廷从来都是顶尖球队,梅西的魔力会带领他们在对阵尼日利亚的比赛中取得巨大的胜利并晋级
我还是抱着希望,希望他能在没有受到任何伤害的情况下获救
Universal
7362
Universal-USA-1 day ago-Follow
this stupid guy took his own life for a game win or loose those players will get lot of money but you left your family in grave same thing is with cricket people get too emotional with sports and film.
这个愚蠢的家伙为了一场比赛而自杀,不管输赢,那些球员都会得到很多钱,但是你抛弃了你的家人,就像人们对板球运动和电影过于激动一样。
Priyabrata Patra
94
Priyabrata Patra-1 day ago-Follow
first try to play football with lungi
首先,试着戴着头巾踢足球
Subu Subrnian
4802
Subu-1 day ago-Follow
Wow... what a spirit? Loss or win, Argentinians are not concerned. This guy lost his brain.
哇……这人是怎么想的啊?无论输赢,阿根廷人都不关心。这个人疯了。
Sunder Swami
1437
Sunder Swami-1 day ago-Follow
One less moron.
世上少了一个白痴。
Kir Kirro
3977
Kir Kirro-Goa-1 day ago-Follow
He may have lost his mind and gone into some hills to con trate on YOGA.
他可能疯了,跑到山里专心修练瑜伽去了吧。
Nalini Krishna Nalini-1 day ago-Follow
Only cowards will take such foolish decision instead of doing something good for the Nation !!!!!!!!!! .......
只有懦夫才会做出这样愚蠢的决定,还不如为国家做些好事呢!!!!!!!!!!.......
Yes
4878
Yes-1 day ago-Follow
..No regrets Myali, if at all really died, he couldn't have sacrificed his life for good cause.
. .如果他真的死了,也没有遗憾,他不可能为了正义而牺牲自己的生命。
Evans Sumitra
5000
Evans Sumitra-1 day ago-Follow
Maybe it was his last wish.
也许这是他最后的愿望。
Whatever
2248
Whatever-1 day ago-Follow
Croatian's are guilty, hahah thats funny
克罗地亚人有罪,哈哈,搞笑了
Pragnesh pragnesh-mumbai-1 day ago
Idiot! I am a chartered accountant by profession and i have criticised many govt policies stop playing this bhakts vs piddis.. U didnt get the context of my comment.. I said its just a waste of life... And u look at urself... "whatever" aisa koi naam hota he kya... I even dont know whether m talking to a human or a robot
白痴!我是一名专业的特许会计师,我批评过很多政府政策。你没有领会我的意思。我说的是,这是在浪费生命……我都不知道我是在跟人说话还是在跟机器人说话
Madhu Soodan M Madhu-1 day ago-Follow
The way Argentina played it was like they wanted to injure the opposite team and not play to win. Fans should enjoy the sport.
阿根廷踢球的时候就好像想要伤害对方球员,而不是为了赢。球迷应该享受这项运动。