Should the North Eastern states of India try to secede from India, and try to join China?
东北邦该脱离印度加入中国吗?
美国quora评论:
Quora User, tap-typo"er
That's like saying : should Greece secede from E.U. and join India because they both have dark hair and common paternal lineage and India's economy is growing faster. The Nagas have been Indian for thousands of years and never Chinese. Genetically and historically they are more of a mixture of Thai, Tibtan and other Indian people than the Han. The Han just learnt a lot from the Thai, not the other way around.
这就相当于说,希腊是否可以脱离欧盟加入印度,因为希腊人和印度人都是黑头发,有着共同的血统等等,而且印度经济正迅速发展。
数千年来,那格人一直是印度人,从来不是中国人。
基因上和历史上来看,他们是泰国人、xz人和其他印度民族的混血
汉人从泰国人学到很多东西,而不是泰国人向汉人学习
Soumitra Paul, I am from North East India
Would you sign an emancipation document to leave your parents, if they were financially not well-to do, for richer parents so that you can build your career?
Hence, I find these suggestions naive and ridiculous to say the least.
你会抛弃不那么有钱的父母,而认土豪为父吗?
我觉得这个建议太幼稚了,太荒谬了
I come from the North-Eastern part of India. I know very well what is going on there, so you need not blow things out of proportion for me. Do you have the slightest idea if the Army were not there in NE, how many people would have been slaughtered to death?
Yes, I agree h an rights violations have happened. Given a choice what would you opt for- violation of h an rights or deaths of thousands of people to terrorism?
我来自印度的东北。对东北邦的情况一清二楚。如果东北没有军队,你知道有多少人会被屠杀吗?
没错,确实存在侵犯人全的事情。给你选择,你是要人全遭受侵犯,还是要让成千上万的人死于恐怖主义?
As far as progress is concerned, have you heard of Bihar or Orissa? Have you been there? I have. There is no need to act the sole victim here. NE is not the step child of mother India. It just so happens, the the number of constituencies in NE are politically not motivating enough for politicians to consider appeasing the people of NE as they do in places like UP or Maharashtra. Even then look at UP. Apart from development in NCR, what else is there to speak of in UP. It is plagued with dirty politics, murder, co ption. There is problem everywhere in India. Which doesn't mean we give up in our country. In our people.
你们听说过比哈尔邦吗,听说过奥利萨邦吗?去过那里吗?我去过。没必要扮演受害者。东北邦不是印度母亲的继子。
北方邦除了NCR有发展外,其他地方呢,这个邦受肮脏政治拖累,杀人放火,附败横行。印度每个地方都受自身问题困扰。
India is a young country. With incompetent and corrupt politicians. That doesn't mean we do not have a future. Even NE has a bright future. We have to work for it. If citizens work hard, however bad the go nment be, things will change for good. Look at the Marwari community. They couldn't be farmers because they didn't have fertile land. What did they do? They spread out. Even in the NE, I suspect 50-60% of the small, medium and big business are run by them which employ lacs of people. If the people of NE rise up, work hard, start business, there is no way NE would be left out of the development.
Lastly, I would end by quoting JFK, "Ask not what your country can do for you. Ask what you can do for your country."
印度是一个年轻的国家。政府无能附败,并不意味着我们没有未来。就连东北邦也有美好的未来。我们一直在努力。
只要人们努力工作,尽管政府是附败的,事情总会改观。
瞧人家马尔瓦尔人,没有肥沃的土地可耕种。怎么办?他们走出去。在东北邦,大约50-60%的大中小企业是他们开的,雇佣了很多人。
如果东北邦人也努力开创一片天地,东北没理由会落后
最后引用JFK的话,"别问国家能为你做什么,问你自己能为国家做什么?
Dhoneswar Rongphar
We the people of north east like Karbi,bodo,dimasa,Naga etc. want to in China...
我们东北人想要加入中国
Mang Sitlhou
Mizo actually was Mizhou (people of Zhou).They had the history that once after the fall of Zhou dynasty.The people of Zhou became sl ves.Some escaped through the Great Wall.People who call themselves as mizo are one of them.
米佐人其实是米周人(周朝人)。
历史上,周朝灭亡后,周朝人沦为努力,一些人逃出了长城,后来自称米佐人(米周人)
Spike Yang, Engineer.
I read the comments. But you forgot to mention India's Caste system, the exact evidence of racial discrimination, China dont have. If manipur young people went to Guang Zhou for study, They will never be beaten to death like what happened in new Dehli.
别忘了印度种姓制度,这是种族歧视的铁证。
中国没有种姓制度。如果曼尼普尔年轻人来广州读书,不会像在新德里一样被打死的
Joemiwang Thongam, works at Students
yes! NE should secede from india, and joining china is not a problem on my view because china is future super power and a super power can do anything. korea , japan are also under USA, so we also can be under china what,s the problem? instead of living with beggar and treating us like 3rd class, it would have been much better to live under a super power
东北邦人就该脱离印度加入中国。中国是未来的超级大国,超级大国可以为所欲为。
韩国和日本也被美国控制。我们也会被中国控制的,有什么问题吗?
与其和乞丐一起生活,与其被乞丐当做三等公民,还不如生活在一个超级大国里。
Rob Wright
Who has ever voluntarily "joined" China?
有谁曾经志愿"加入"过中国?
Sutirtha Roy, " Na Aastik, Na Nastik, I'm Sarcastic. "
Do you think Chinese are happy in China!!!
你觉得中国人在自己国内幸福吗?
Shubhankar Tiwari
what the hell... i am fail to understand...why u guys talking about these silly question....i want to salute the person...who arise with this kind of stupid question....he/she must be never been to north east region of our country
north east is the part of India..and it is one of the most precious and decorous place in this universe.... like we say its a paradise that is unexplored and off course its in the heart of India.
理解不能。为什么提出这样没水平的问题。佩服提问题者,他肯定没去过我们的东北地区
东北邦是印度的一部分,是一个有待开发的天堂
Sunny Mazumder, Introvert | coder | biker
Thats Pathetic!
悲哀!
Simos, studied at University of Illinois at Urbana-Champaign
It is ridiculous to join China to enjoy our prosperity, just like Western Europeans do not want anyone to join them~
译文来源:三泰虎
加入中国享受荣华富贵的想法是荒谬的,中国人不会要的,就像欧洲人不想其他国家加入一样
Anonymous
As far as I know, only two states in NE are radically different from rest of India - Sikkim and Arunachal Pradesh.
People from other states have nothing in common with the Chinese people. So, joining China is out of the question.
People there might have mongloid features but that doesn't mean they like China more than India. Its true that they might not feel Indian, but that doesn't necessarily translate to calls for independence.
I don't believe in nationalism and shit, so if they seriously wanted independence, then I think they should have it. But I am not aware of any such movements. (may be someone from NE can shed a light regarding this)
Let people living there decide what they want, and stop spreading false propanganda
据我所知,东北只有两个邦,与印度其他地区大不相同,分别是锡金和"a邦"
其他邦的人,跟中国人没有任何共同点,是不可能加入中国的
东北人也许有黄种人特征,但这并不意味着他们更喜欢中国。他们也许看起来不像是印度人,但这也 不足以是独立的理由啊。
我不是民族主义者,如果他们真的想独立,我觉得该让他们独立。然而据我了解,并不存在所谓的独立运动。
Brijendra Sharma
we (MEETEI or MEIETEI) originated from china but now we are fighting against india...coz they put gun on our KING's head letting to join to india but now no benefits to joined here... only discrimination n challenge they dont know how cruel we are....
我们曼尼普尔人来自中国,现在和印度斗争。
印度用枪指着我们国王的头,要求我们加入印度。
加入印度后,没有任何好处,除了歧视还是歧视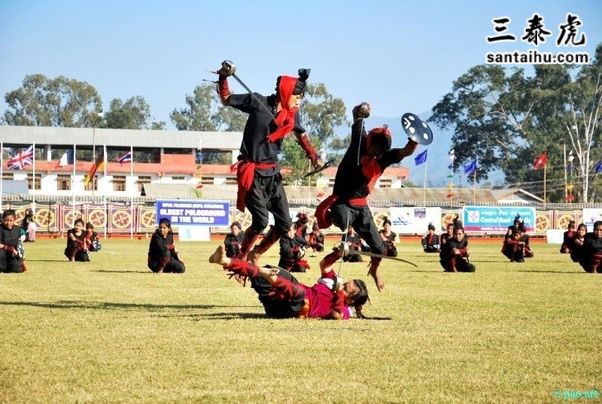 Ravi Teja Karri
Why to join any other nations?? Forming an Independent nation could be better having more territory larger than many european nations... can form own go nment,own laws..
为什么要加入其他国家啊?自己独立不是挺好的吗,面积比很多欧洲国家还大呢,可以有自己的政府,有自己的法律
Anonymous
not China but Independent….why would we join China ?
不是加入中国,而是要独立。为什么我们要加入中国?
Loo O
I am a Chinese, I think you should be independent, not to join China, the Chinese people do not want you to join, but you are a big burden.
我是中国人。我觉得你们应该独立,不是加入中国。
中国人不要你们加入,你们是负担
Abhishek Korada, worked at Tata Consultancy Services
The question itself is wrong...
North east is part of india and the people will be indians. The same with kashmir. If people really want to seperate there are ways to do that constitutionally.. Like referrandum etc.
问题本身是错的。
人们想要独立,宪法已经给出了路子,可以公投啊。
Tushar A. Katira, Someone out there is looking after India
Just see how it has worked out for Tibans.
It would be literally from the frying pan into fiery self immolations.
It is Delhi with all its politicians that needs to secede from India and all will be well for the rest of India.
看看xz人。我想德里及其政客应当脱离印度,那么印度其他地区就好过了
Pranaya Harsha
Yes should because India is developing the western states.
And if the north eastern states join china then they will develop and will have higher standard of living. And most of the north eastern indians looks like chinese
可以有,印度正在发展的是西部邦。东北邦要是加入中国,就能发展起来,就能过上美好生活。
东北邦大多数人看起来像中国人
Satish Pitchikala, I think, therefore I am
I'm not sure if NE states have to join China, But I think they have every right to secede from India. Let's be honest, India never cared for this region. with hardly 1-2 MP seats in Indian parliament from each state, these states are not favored by any Union go nment.
Some random SMS have made thousands of NE Indians run away from Indian cities. That is how secure they feel in India. I support them if they want to have their own country. We don't have a right to say NO
不确定东北邦是否该加入中国,不过我觉得他们有权利脱离印度。
老实说,印度从来就没怎么关照过这个地区,东北每个邦在印度议会也就一两个名额,从来就没有被印度联邦政府讨好过
一些随意散发的信息,导致成千上万印度东北人逃离印度城市。他们在印度就是这么没安全感。
如果他们想自己建国,我支持他们。我们没有权利说不
Anonymous
Thats complete Bullcrap! India forced itself ,raped Sikkhim, Manipur and Assam and the whole Eastern India. Sikkhim was made part of India through invasion, Manipur in coercion and under duress! Its as legitimate as Israel in Palestine. Whoever wants to secede is their own business
It is unconscionable to deny a people fre m. Or should I yak about the Human Rights abuse of Calcutta Chinese as well ! So stop being a hypocrite, if they want to leave and join whoever or be their own state. It is their own business!
印度强奸了锡金,强奸了曼尼普尔,强奸了阿萨姆邦,强奸了整个东北邦。
锡金是印度靠侵略而来的,曼尼普尔也是被强迫的。
剥夺人们的紫游是不合理的。我能说加尔各答华人的人全被侵犯吗!别虚伪了,人家想要离开,想要加入其他国家,或者想要独立建国,那是人家的事
Aditya Buragohain, B. Com from Sonari Commerce College
From my point of view, joining China isn't the solution. But "Independence" from India, well it's a different matter altogether. Yes we north east Indians have been victims of divide and rule policy since British rule till date. That's why it's becoming quite challenging for north east Indians to achieve their common goal. History tells us how strong the north east Indians were when they used to fight with enemies side by side. So if north east Indians wants what's rightfully theirs, then they ought to learn to fight "together".
在我看来,加入中国不是解决办法,从印度独立又是另一回事。
没错,我们东北印度人,自从英国殖民统治以来就一直是分而治之政策的受害者,这导致印度东北人很难实现共同目标。
历史告诉我们,肩并肩和敌人战斗,东北人的力量是多么强大。
东北人要是想拿到属于自己的东西,就应该学会"一起"战斗
Joseph Boyle
Join Singapore instead. Better managed, they could really use more territory and some cool hill stations, and they speak English.
还不如加入新加坡。而且新加坡人说英语
Saquib Rajvi Ahmed, Technical Support Executive (2017-present)
North East have been integrated through numerous treaties eg: Treaty of Yandaboo etc. We was a region of self autonomous rule before the advent of british imperialism. Is is nt just about NE. The whole defination of India/Hindustan was established by british. North East woud always like to a part of India, provided there is no special tratment melt out the region. NO go nment for the past 60-70 yeras ever tried to assimilate the region. We are definately different from out mainstream brethen. Folks, Just think what's the defination of India?
东北是通过条约整合起来的。其实英国到来之前,我们是一个个自治的王国。不仅是东北地区,整个印度都是英国统一起来的。只要不被特别对待,东北就会愿意呆在印度。过去60-70年,没有哪届政府试图同化这一地区。我们与印度主流是不同的。
Anirudh Duggal, <><read
It depends more on the way we perceive our nation. India has been a conglomerate of cultures and people. Instead of blaming the nation, blame the people.
If we do not consider living in dignity in our nation how can we expect other nation to treat us not "discriminated"?
看我们如何看待国家。印度是一个不同文化和民族的大熔炉。
自己都不觉得活在这个国家有尊严,又如何能指望其他国家不会"歧视"我们呢
Gabriel Chan, Overseas Chinese(華僑)
Other than South Tib (most of Arunachal Pradesh), China doesn't want these places or people, and never had historical claim to them
除了zang南,其他地方,中国并不想要,也从未提出过主权声张
Jimmy Boy
No. I'm not sure why people think China would just accept anyone who wants to join China. One, people of NE India aren't Chinese and never have been. Why would it want to voluntarily bring in a huge non-Chinese population into the country? Two, NE India is poor. China would have to allocate resources to provide for the people there and to develop the area. There are other areas that need the money more. China doesn't have unlimited money, contrary to popular perceptions. India should develop NE India and people of NE India should develop themselves.
为什么有人会觉得只要有人愿意加入,中国就会接受呢。
东北邦人不是中国人,从来不是。为什么要让这么多人加入?印度东北挺穷的,如果接纳他们,中国必须腾出资源,帮助该地区发展。
中国的钱并不是花不完的。印度应该发展东北邦,东北邦人民也应努力建设自己的邦。
Lawin Kharmujai
health, education, food and shelter. These are most important things in life. Indian go nment is doing a great job providing these basic needs to the people of northeast. If northeast people want to be developed they should start something to help their own states,I think most of them are more than capable of doing that. As far as India is concerned growth is slowing and inflation remains high most Indians are jobs seeker rather than jobs creator, oh and about population there are so many Bangladeshi ,Nepalese , Burmese illegal immigrants to northeast india especially assam tripura, and meghalaya.
健康,教育、食物和起居之所,这些是生活最重要的方面。这些,印度政府为东北邦人都提供了。
再想要其他的,东北邦人就必须靠自己了,他们是有能力的。
印度发展缓慢,通货膨胀率居高不下,大多数印度人在找工作,创造就业的印度人少。
很多孟加拉国人、尼泊尔人和缅甸非法移民来到印度东北邦。
Daniel Murala, studied at National Institute of Technology, Warangal
I'm staying in North-East since an year, to be precise in Arunachal Pradesh, the Indian state of Chinese interest.
People here are very much Indian and are proud to be Indians, they are not interested in joining any other country.
If some insensitive rouges call them names that doesn't mean every person in the rest of India does that.
They are free spirited and don't like to be dominated by someone hence Chinese autocratic attitude won't suite them.
Pace at which development activities are taken up by govt cannot be appreciated, terrain and environment are also challenging.
Armed forces in this region are a need both for development of the states and strategical puposes, unfortunately demonized by TRP craving media.
Human Rights violations is very high in China, stands next to USA.
I don't downplay chinese development over last 15 years but I would like you to see beyond Bejing and other prominent places.
我在东北邦呆了一年,准确地说是在中国感兴趣的"a邦"呆了一年。
当地人很印度,为自己是印度人感到骄傲,他们对加入其他国家没兴趣。
一些流氓骂他们,并不意味着其他印度人都会这样。
他们精神抖擞,不喜欢被人使唤来使唤去,所以中国那一套不适合他们。
军队驻守当地是必要的,不仅是为发展创造了稳定的环境,而且有着战略威慑作用,遗憾地是被追求收视率的媒体妖魔化了
中国人全侵犯相当严重,仅次于美国
我不是贬低中国过去15年的发展成就,我是建议你们看看北京等发达地区以外的地方,不是你想象的那样的
Keisham Cw, From imphal, Manipur
Being from manipur. I would only like to point out one thing.
If the northeastern part of india were to secede. And form a new nation.
Looking at the present scenario, civil war between various ethnic groups will surely ensue.
Contrary to popular belief, the northeast is not a dynamically integrated singular entity (why do you think there are so many states in such a small area. before 1947, there was only assam province, kingdom of manipur and kingdom of tripura).
我来自曼尼普尔邦,我只想指出一点。
印度东北地区想脱离印度,并组成一个新的国家?
看看当前形势,各民族肯定会爆发内战的。
不是大家想象的那样的,其实东北并非是一个单一整体(这么小的一块地方,居然有那么多邦。1947年之前,只有阿萨姆省,曼尼普尔王国和特里普拉邦)
Clement Lallianmawia, Software Engineer
I'm from Mizoram and my answer is,
WE ARE NOT CHINESE!
And we became Indians from 20 February 1987.
(I hope you know what I mean)
We were (umm.. how to put it), subjugated and forced to become Indians. (It's a long story, better forget the past)
Originally, our ancestors were living in Burma, who later migrated to this present location called Mizoram. Even today, thousands of Mizos are still living in Burma(now Myanmar).
There are some theories which suggest that we were -
Chinese sl ves who escaped from the Great Wall of China and came to Burma
One of the lost tribes of Israel, possibly Ephraim.
In short, we are neither Chinese nor Indian and not even Burmese. We came out of nowhere. :)
However, none of these matter for now. All that we know now is that we are Mizo and now we are a part of India. We are not idiots who will still fight for fre m from Indian go nment.
我来自米佐拉姆邦,我的答案是"我们不是中国人!"
1987年2月20日,我们成为了印度人。
我们是被迫当印度人的(说来话长,还是忘记过去吧)
最初我们的祖先生活在缅甸,后来迁移到现在叫做米佐拉姆的地方。至今,仍然有成千上万米佐拉姆人生活在缅甸
关于我们的起源,还有以下说法:
一个是,逃离长城的中国努力来到缅甸
还有一个是,以色列一个消失的部落,可能是以法莲部落。
总之,我们既不是中国人,也不是印度人,更不是缅甸人。我们是突然冒出来的。
如今,我们只知道自己是米佐拉姆人,现在是印度的一部分。
Shngain Lang, Khasi Native from Meghalaya
For a thought I won't mind. Clearly we have always maintain our identity and independence before the British came.
Since we had governed by ourselves then why not now?
There were great kingdoms like the Ahoms, Jaintia kingdom and Manipur which were advance during that period.
Seceding itself will have some problem only in the initial stage but once we get our shit done like infrastructure, FDI, IT, and competitive bureaucracy we will slowly and surely managed.
显然,英国人到来之前,我们一直保持着自己的身份和独立。
以前都是自己统治自己,为什么现在不能?
以前就出现过阿霍姆王国、贾因蒂亚王国和曼尼普尔王国,在当时是先进的。
脱离印度,一开始会出现动荡,一旦基础设施建好后,吸引来外资,我们就会慢慢稳定下来,慢慢进入状态
Smaller countries and nation states managed very well and are very much has lesser problems.
And NE wont be NE, it will split into 8-10 independent nations each having its own identity and sovereignty.
What will happen to India?
Well it does not need to bother about China and China too as it will create a buffer( China in no way is interested in NE, it has its interest only on Arunachal and if it wants it would have taken long back in 1962).
小国更容易管理,问题更少。
东北邦会分裂为8-10个独立国家,每个国家是独立的。
印度以后就不用操心中国了,两国之间出现了一个缓冲(中国并非对整个东北邦感兴趣,只对"a邦"感兴趣。如果真的想要,中国早在1962年就占领了)
Where will these new states see themselves?
Regionally they will cooperate with SE Asia region and will be a part of ASEAN rather than SAARC because of geography and the culture.
I'm answering base on the assumption nature of the question.
这些新的国家会加入哪个地区联盟?
他们会与东南亚合作,加入东盟,脱离南亚次大陆国家联盟,毕竟地理上靠近东盟,文化也相近
Whether NE remain in the Indian Union or get fre m, it doesn't matter to me but I know that if we do we won't be poor, we have all the potential.
Well I think my answer is quite different from the rest but this is what the question tried to imply what if, if it happens. If it happens it will be great and if its not it will be ok.
Maps and countries changed every few hundred years so who knows what events will unfold.
东北是呆在印度联盟,还是脱离,并不重要。我们不会穷的,我们有潜力。
几百年来,各国边界不断变化中,谁知道以后的事情
Mayur Ahir, Hacker, Hustler & Human
Separating from united country on the grounds of discrimination (racial, political, geographical) is foolish. At least in India, we are highly diverse country just look at people/tribes from North, East, South, West and those Islands in Indian Ocean. Not only that but within those regions there are divisions as well.
以受到歧视为借口而脱离国家,这样做是愚蠢的。
至少印度是一个高度多样化的国家,人们来自东南西北,来自印度洋上的岛屿,来自五湖四海。
Anonymous
It is a question that most people from the North East have thought about. Even the most global liberal minds have at some point thought about it. It is not a question that can be answered by mere rhetorical emotional verbal diarrhea.
Firstly the suggestion of joining China is a little far fetched. This is evident as only two states in the North East have any linguistic or cultural ties with China.
Secondly in the historical context, most of the North East joined India out of coercion or conquest. Tripura was the only Kingdom to join willingly, yet the indigenous people of Tripura have been reduced to a minority in their own land by a majority population that has little respect for the indigenous traditions.
这个问题,大多数东北邦人都想过。首先加入中国太不现实了,太牵强了。印度东北只有两个邦在语言和文化上与中国有关联。
其次,历史上东北大多数邦是和印度一起的,不是被强迫,就是被征服。
特里普拉是唯一自愿加入印度的王国,然而特里普拉人如今在当地已经沦为了 ,涌进来的印度移民不尊重当地的传统
Balaji Viswanathan, Knowledge lover.
A secession will not happen and will not succeed because:
The biggest bone of contention in NE is the goal of autonomy for the tribes. The nature of Indian de acy means, the North East Tribes have some degree of autonomy and the ability to choose their leaders. In China, they would have none of that autonomy.
North-east Indians share a lot of characteristics with Tibans
North-east Indians are not one homogeneous group. There are 100s of tribal groups and there are frequently clashes among each other due to historic issues. Thus, there would be lesser agreement to split as a single group.
不会脱离的, 也不会成功,原因如下:
东北邦努力争取的是自治。也就是东北邦享有某种程度的自治,可以选自己的领导人。在中国可享受不到这种权利。
印度东北人和藏人很多特点是相似的。
印度东北人也不是铁板一块,有几百个部落呢,因为历史原因,彼此经常发生冲突。
The status of minorities in China is not much better than those in India. It is quite likely that the North East Indians would face far greater discrimination in China than they currently experience in India.
中国 的待遇,并没有比印度 的待遇好多少。
很可能印度东北人在中国遭受到的歧视,会比目前在印度遭受的歧视更多。
Almost all North east Indians practice some religion or the other (mostly Hinduism, Buddhism and animism) and all of these will come under severe strain under an anti-religious China. In China, there is a lesser respect for cultural diversity than for economic development.
印度东北,几乎人人信某门宗教,大多数是印度教、佛教等,加入中国后会遭受限制。
Tribes like Nagas or Bodos have always resisted the occupation of any outsider and will continue to fight Chinese if they choose to take that region. Why would China buy India's headache?
那格人和博多人一直抗拒外来者的侵占,中国人要是进来,他们会继续抵抗的。为什么中国要接过印度这个烫手山芋?
Oh and finally, Indian union will fight tooth and nail for every inch of the territory. In 1962 with a weak army, India fought hard for the barren Aksai Chin in Ladakh. It is quite likely that world opinion and UN will side with India.
I'm not denying that people from north-east face discrimination of some kind. But, you must realize that many Indians face discrimination in other parts of India (think of the anti-Bihari riots in Mumbai). The fight against discrimination has to come through de ratic means - courts, laws and economic growth.
最后,印度会保住每一寸领土的。世界舆论和联合国也会站在印度这一边的。
不可否认,印度东北人遭受某种歧视。不过必须承认,很多印度人在国内其他地方都会遭受歧视。对歧视的抗争,必须通过皿煮和法律来解决,通过发展经济来消除。