Mid-air scare as Sushma Swaraj's plane goes missing for 14 minutes
空中惊魂:苏什马·斯瓦拉杰航班失联14分钟
Sachin Parashar and Saurabh Sinha| TNN | Updated: Jun 4, 2018, 00:27 IST
NEW DELHI: In a major scare on Saturday evening, an Indian Air Force aircraft 'Meghdoot' flying external affairs minister Sushma Swaraj from Trivandrum to Mauritius, on her way to South Africa, went incommunicado for 14 minutes. The scare happened when Mauritian air traffic control and the crew of the Embraer 135 Legacy flying Swaraj — which was cruising safely — could not establish contact with each other for some time after the plane entered the island nation's air space.
新德里:星期六晚上,印度外交部长苏什马·斯瓦拉杰搭乘空军一架飞机从特里凡得琅飞往里求斯,在前往南非的途中与外界失联了14分钟。里求斯的空中交通管制员和斯瓦拉杰所搭乘的ERJ135航班曾有一段时间失去联系。该飞机是巴西航空工业公司所生产的。当时飞机已经进入该国领空,航行一切正常。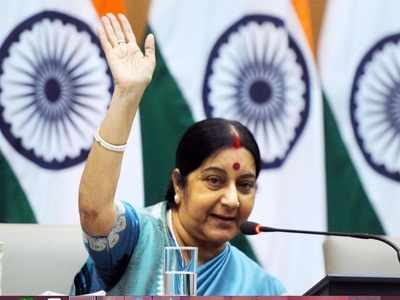 Mauritius then declared "INCERFA" rm, which in aviation parlance means an uncertainty phase wherein it is not known if the aircraft and its occupants are safe.
随后,里求斯发布"INCERFA"警报,在航空用语中表示飞机情况不明,无法确定飞机及机上人员是否安全。
Soon after the story was first reported by TOI website, the AAI put out a press release confirming that Mauritius had indeed activated INCERFA or the first stage of emergency which lasted from 4.44pm to 4.58pm. Swaraj was accompanied by senior MEA offi als including Secretary (Economic Relations) TS Tirumurti.
印度时报网站报道这一消息后不久,印度机场管理局发布了一份新闻稿,确认里求斯确实启动了INCERFA或一级紧急状态,时间从从下午4点44分持续到4点58分。印度外交部包括外交秘书TS Tirumurti陪同斯瓦拉杰出访。
AAI said the plane took off from Trivandrum, where it had stopped for refuelling, at 2.08 pm for Mauritius. "Aircraft changed over from Indian airspace to Male ATC which then established contact with the aircraft at 4.44 pm IST. However, IFC 31 could not contact Mauritius ATC after entering Mauritius airspace. Mauritius ATC then activated INCERFA (the uncertainty phase). Later at 4.58pm IST, IFC 31 came in contact with Mauritius ATC and landed. Mauritius ATC activated INCERFA (uncertainty phase) without allowing the stipulated time period of 30 minutes to lapse from the time when aircraft last contacted ATC. This was perhaps done because the flight was carrying a VIP," said the AAI in its statement.
印度机场管理局表示,飞机于下午2点08分在特里凡得琅加油后飞往里求斯。印度机场管理局发布声明说,"飞机从印度领空转接马累空中交通管制中心,直到印度标准时间下午4点44分一直保持联系。然而,航班进入里求斯领空后无法与里求斯空管取得联系。里求斯空中交通管制中心随后发布INCERFA警报(情况不明)。印度标准时间下午4点58分,航班与里求斯空管取得联系并着陆。可能因为航班上有一位贵宾,所以里求斯空管并非在飞机与空管失联30分钟后才启动INCERFA警报程序"。
"Over oceanic airspace, air traffic control (ATC) globally waits for 30 minutes to sound INCERFA for a plane if it does not contact it on entering its airspace of flight information region. In this case, the Mauritius authorities pressed the rm button 14 minutes after the flight IFC-31 entered its airspace and contact could not be established with the plane," said a senior offi al of Airports Authority India (AAI), the parent organisation for ATC here.
印度机场管理局表示,"在海洋空域,全球各个国家的空中交通管制中心一般在飞机进入其空域30分钟后仍未与之联系时,才会发布INCERFA警报。而该航班进入里求斯领空14分钟后,里求斯当局按下了警报按钮。"
The pilots of the Embraer, for which the rm was sounded at 4.44pm, contacted Mauritius ATC at 4.58pm, after which everyone heaved a sigh of relief. The Embraer does not have a long range and Sushma, who is flying it from India to South Africa to attend BRICS and India-Brazil-South Africa (IBSA) ministerial meetings, had to take three refuelling or technical stops — Delhi-Trivandrum-Mauritius-South Africa.
巴西航空工业公司的飞行员于下午4点58分与里求斯空管取得联系,之后所有人都松了一口气。苏什马从印度飞往南非,参加金砖国家会议和印度-巴西-南非部长级会议。该航班的航程并不长,中途三次经停加油或技术检查——德里-特里凡得琅-里求斯-南非。
A senior ATC offi al said communication over oceanic area is often problematic due to erratic VHF communication. "Sometimes pilots are unable or forget to contact the Mauritius area. That oceanic area has no radar coverage and everything depends on VHF/HF communication. Such places where VHF coverage is not good are known as dark zones," said the offi al.
一名空管高级说,由于甚高频通信不稳定,海洋空域的通信经常出现问题。"有时飞行员无法联系或者忘记联系里求斯。那片海域没有雷达覆盖,都是依靠甚高频或高频通信。甚高频信号不好的地方被称为暗区。"
The 14-minute long uncertainty phase (INCERFA) is first of the three emergency phases under International Civil Aviation Organisation's Chicago Convention. The second is "alert phase" (ALERFA) in which apprehension ests as to the safety of an aircraft and its occupants. The third is "distress phase" (DETRESFA) wherein there is a reasonable certainty that an aircraft and its occupants are threatened by grave and imminent danger and require immediate assistance.
国际民用航空公约(芝加哥公约)设置规定了三个紧急阶段。14分钟的情况不明阶段属于第一阶段。第二个阶段是"警报阶段",在这个阶段,人们对飞机及其乘员的安全存在担忧。第三个是"遇险阶段",有理由相信飞机及其机上人员受到严重威胁,需要立即提供援助。
Luckily, the 14-minute-long scare involving Swaraj's VVIP plane ended with the first stage itself.
幸运的是,这14分钟的恐慌只是虚惊一场。
"Air Traffic Services (ATS) or the responsible Rescue Coordination Centre (RCC), as appropriate, will make the Emergency Phase declaration within the time frame specified for the trigger event. As an example, loss of radio contact with an aircraft under ATS control could result in declaration of the Uncertainty Phase within 10 minutes, the Alert Phase within 20 minutes and the Distress Phase within 30 minutes of the event whereas loss of radio contact with an aircraft not under ATS control might not trigger the Uncertainty Phase declaration until 30 minutes had lapsed with Phase upgrade occurring at 30 minute intervals," said aviation website SKYbrary.
航空公司网站SKYbrary表示,"空中交通服务中心或责任救援协调中心在触发事件指定的时间范围内可酌情作出紧急阶段声明。例如,空管中心与飞机失去无线电联系10分钟可能发布情况不明级别;失联20分钟,发布警报级别;失联30分钟,发布遇险级别。在飞机与空管中心失联30分钟之内,空管中心不太可能会发布情况不明声明。知道30分钟后才会发布较高级别的声明。"
Swaraj used the brief stopover in Mauritius to meet PM Pravin Jugnauth.
斯瓦拉杰在里求斯短暂停留期间会见了总理普拉温德·贾格纳特。
The external affairs ministry had said in a series of tweets on Saturday evening: "On her way to South Africa during transit halt in Mauritius, Swaraj was warmly received by Foreign Minister of Mauritius, Seetanah Lutchmeenaraidoo… Connecting with our maritime neighbour! Swaraj called on the Prime Minister of Mauritius Pravind Kumar Jugnauth. Enhancing our bilateral relationship was the focus of the meeting."
星期六晚间,外交部在一系列推文中说:"过境里求斯途中,她受到里求斯外交部长Seetanah Lutchmeenaraidoo的热情接待……加强了我们与海上邻国联系!斯瓦拉杰还拜见了里求斯总理普拉温德·库马尔·贾格纳特。会议重点是加强我们的双边关系。"
After these meetings, Swaraj left for South Africa. On June 6, she will visit the Phoenix settlement where Mahatma Gandhi had developed his philosophy of non-violence. On June 7, she and 300 other dignitaries will undertake a symbolic train ride from Pentrich station to Pietermaritzburg station to commemorate Mahatma Gandhi's eviction from the train on that day in 1893.
会谈之后,斯瓦拉杰前往南非。6月6日,她将到访圣雄甘地发展非哲学的Phoenix settlement。6月7日,她和300名政要将乘坐具有象征意义的火车,从五里奇车站前往彼得马里茨堡车站,以纪念圣雄甘地在1893年的那一天被赶下火车。
印度时报读者的评论:
来源:http://www.santaihu.com/45168.html
外文:https://timesofindia.indiatimes.com
Ajeet
7444
Ajeet-Delhi-20 hours ago
By God's grace all are safe. She is so valuable for we people.It is an era of co ption, loot and selfishness..and when we find someone like Shushma ji . their life becomes important for the service of people and the nation.
谢天谢地,他们都安全无恙。她对我们来说太有价值了。这是一个,掠夺、自私的时代。然后我们找到了苏什马这样的人,他们的生命对国家和人民来说都非常重要。
Mathur Matics
8050
Mathur-Mumbai-20 hours ago
sushma ji lives a charmed life. she's strength of the nation.
苏什马吉人自有天相,她是国家的力量。
Altaf Hyder
12821
Altaf-Bangalore-20 hours ago
I wish her long life who is only sincere leader in BJP.
她是人民党内唯一忠诚的领导人。祝愿她长寿。
Kameswaran Iyer
9334
Kameswaran-20 hours ago-Follow
Thank God...long live Sushmaji. The nation needs such great people.
谢天谢地。。。祝苏什马长命百岁。。国家需要这样的伟人。
5 Bji M Bji M-Chennai-19 hours ago-Follow
She saved many lives. Nothing to worry, she will be alwayds safe by Gods grace.
她拯救了很多生命。不用担心,吉人自有天相。
Harmeet Singh Harmeet-New Delhi-20 hours ago-Follow
thank God.
谢天谢地。