Satellite images show dozens of Chinese naval vessels putting on a huge show of force in the South China Sea
卫星图片显示数十艘中国海军军舰在南海集结大秀肌肉
Satellite images have emerged showing dozens of Chinese naval vessels putting on a show of force in the South China Sea.
卫星图片显示,数十艘中国海军舰艇在南中国海集结大秀肌肉。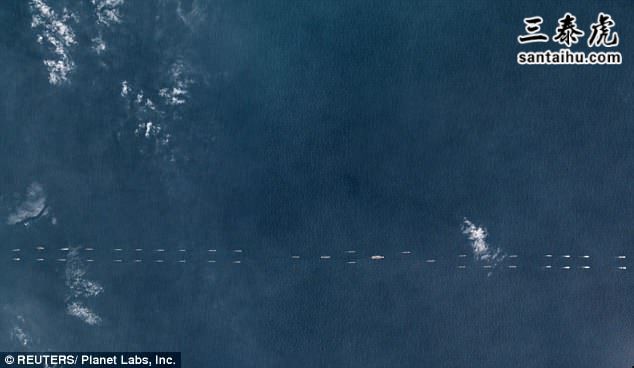 The overhead images confirm a carrier group has entered the vital trade waterway off Hainan island as part of what Beijing earlier described as combat drills that were part of routine annual exercises.
上图证实,中国一个航母舰队已经进入了海南岛以外的重要贸易航道,这是北京方面早些时候宣称的军演的一个部分,此次军演也是年度例行演习的组成部分。
Up to 40 ships can be seen in a line formation with submarines flanking the carrier Liaoning and aircraft above.
40艘船列队航行,潜艇在辽宁号航空母舰两侧随行,空中还有飞机编队飞行。
Some analysts have described the movements, captured in photos taken on Monday and provided by Planet Labs Inc, as an unusually large display of the Chinese military's growing naval might.
一些分析人士称,这些行动是由行星实验室公司在周一拍摄的并提供的,这是中国日益壮大的海军实力的一次非同寻常的展示。
The exercises come amid fresh signs of tension in the resource-rich waterway, with Vietnam recently halting oil exploration off its coast by Spanish firm Repsol under pressure from Beijing.
这一军演正值这条繁忙的航道最近出现紧张迹象之际,越南最近在北京的压力下中止了西班牙雷普索尔公司在其海岸附近的石油勘探行为。
Beijing also objected to a so-called fre m of navigation patrol by a U.S. warship last week close to one of its artificial islands in the Spratlys archipelago further south.
中国上周还抗议美国军舰在南沙群岛以南一个人工岛礁附近进行了海域巡航。
According to the Taiwanese defence ministry, the Liaoning carrier group also crossed the Taiwan Strait last week.
根据**国防部的说法,辽宁航母舰队上周也穿越了**海峡。
Jeffrey Lewis, a security expert at the California-based based Middlebury Institute of Strategic Studies, said the images showed the first confirmation that the carrier was joining the drills.
总部位于加州的米德尔伯里战略研究所的安全专家杰弗里·刘易斯说,这些图像显示了该航母第一次确认参加军演。
'It's an incredible picture,' he said. 'That's the big news to me. Confirmation that, yes, the carrier participated in the exercise.'
他说,"这是一幅令人难以置信的画面。这对我来说绝对是个大新闻。确认,是的,航母也参加了军演。"
While the Liaoning has previously entered the South China Sea as part of drills in uncontested training grounds south of Hainan, its annual exercises are closely watched by regional and international powers eyeing Beijing's growing military might.
尽管辽宁舰此前已进入南中国海,参加在海南以南无争议训练基地的军演,但它的年度军演还是受到了本地区和国际势力的密切关注,他们一直关注着北京日益增长的军事实力。
It is unclear where the flotilla was headed, or how long operations will last. China's defence ministry did not immediately respond to a faxed request for comment.
目前还不清楚这支舰队驶向何处,也不清楚军演将持续多长时间。中国国防部并未对请求置评的传真做出即刻回复。
Collin Koh, a security expert at Singapore's S. Rajaratnam School of International Studies, described the deployment as unusual for its size and scope.
新加坡拉加拉特纳姆国际研究学院的安全专家科林•科称,此次部署的舰队规模和行动范围都非比寻同。
'Judging by the images, it does seem they are keen to show that elements of the South Sea Fleet are able to routinely join up with the carrier strike group from Dalian in the north,' he said.
他说,"从图片上看,中国似乎渴望向世界展示南海舰队能够与北方大连的航母战斗群会合。"
'It does seem they want to show inter-fleet interoperability - something the (Chinese) navy has been quietly working on for some time.'
他说,"他们似乎想展示舰队之间的互通性,这是中国海军一直在默默努力的事情。"
Chinese naval and coast guard forces have expanded rapidly in recent years and now patrol the vast swathes of the South China Sea, but little is known about their combat readiness and co-ordination.
中国海军和海岸警备队近年来迅速阔张,现在在南中国海的大片海域巡逻,但他们的战备状态和协调能力却鲜为人知。
Koh said as well as the destroyers, frigates and submarines that would ordinarily support a carrier, the flotilla appeared to include a large oiler for re-supply as well as smaller corvettes and possibly fast attack catamarans.
科说,和常规给航母护航的驱逐舰、护卫舰和潜艇一样,这个舰队似乎还包括了用于补给的大型加油机,小型的护卫舰,可能还有快速进攻双体船。
'While it highlights an extensive ability to deploy, we are still left to guess at the PLAN's combat readiness,' Koh said.
科说,"虽然舰队强调了它有足够强大的配置能力,但我们对解放军的战备状态依然停留在猜测阶段。"
As well as Vietnam, China's claims in the South China Sea are disputed by the Philippines, Malaysia and Brunei while Taiwan also has claims.
与越南一样,中国在南中国海的主权主张也受到菲律宾、马来西亚和文莱的争议,同时**也声称对此拥有主权。
【英国每日邮报网友评论】
译文来源:三泰虎 http://www.santaihu.com/44518.html

preacher john, sheffield, United Kingdom, about 10 hours ago
Chinese and Russian influence and hegemony is increasing as the US retreats into isolationism. Trump will do nothing and indeed there is little the US can do short of war. American dominance is now a fading reality.
随着美国退回孤立主义,中国和俄罗斯的影响力和霸权主义正在增加。特朗普不会采取任何行动,事实上,除了打仗,美国几乎无能为力。美国的统治地位如今已慢慢衰落。
Shadowman, London, about 13 hours ago
Judging by their building standards with everything else they copy from around the world these shops have so fun done well to survive getting wet. Build quality like Russia ... c r a p.
从他们到处抄袭的建造标准来看,这些船可不怎么样,恐怕是无法在水上生存。建设质量就像像俄罗斯那样烂
preacher john, sheffield, United Kingdom, about 10 hours ago
Just keep telling yourself that. We should send our new and only aircraft carrier, the one that broke down and has no planes.
这话留给你自己吧,我们应该应该派出我们那艘新的唯一的航母,就是那艘出故障的,没载飞机的那艘。
Earl of Broadstairs, London, United Kingdom, about 13 hours ago
China now number one in the world.
中国现在已经是世界第一强国了。
Public Spirit, Swansea, United Kingdom, about 22 hours ago
You still want that war, EU? Is that the only way you think you can unite Europe?
欧洲人还想着打仗呢?难道你们只能通过打仗来团结欧洲各国?
Noddy101, Dublin, Ireland, a day ago
An easy target for the US Navy
这也太容易被美国海军当成目标了吧。
lustgarten, LiverpoolC, United Kingdom, a day ago
All taken out by one US destroyer.
美军一艘驱逐舰就能把它们全都干掉。
Witzelsucht, Los Angeles, United States, a day ago
China builds up its arm forces, hogs the South China Sea, and threatens its neighbors while telling the world that China only wants peace.
中国增强战斗力,想要吞下南中国海,威胁邻国,但是他们一直口口声声说中国只想要和平。
Greedisgood999999, NanKing, China, about 14 hours ago
isn't it what your US have done in past tens years?
这难道不是你们美国过去十年间一直在做的事情吗?
Nan C, Mt. Pleasant, United States, a day ago
Although they talk about building more, China and Russia only have one carrier each. What a huge show of force.
虽然他们一直在说要多造航母,但是中国和俄罗斯都只拥有一艘航母。真是一场"大秀"啊。
AAnE, Louisville Kentucky, United States, about 24 hours ago
They don't have a desire to project influence globally though. Therefore they don't really need large numbers of carriers. China wants to control the oceans in their hemisphere, thats why they are developing (and claiming sovereignty) of those territorial waters.
他们并没有想要在全球范围内发挥影响力的想法。因此他们并不需要大量的航空母舰。中国希望控制北半球的海洋,这就是他们开发领海(并声称拥有主权)的原因。
Destructivedave, Cambridge, United Kingdom, a day ago
The man that steals islands. Makes himself leader for life and is building the biggest weapons ever on western money. While all our countries manufacturing industries die because our go nment sold us out to cheap chinese emmission spewing cheap goods.
中国就是偷岛的。他们让自己成为领导者,并用西方的钱制造史上最大的武器。而我们所有国家的制造业都因为政府出卖民众,让民众购买廉价中国货而纷纷倒闭。
Gary, Atlanta, a day ago
So, we are scared by a regular military drill! That carrier is 30 to 40 years behind the US'. We even have trouble to manage our domestic gun control, let alone to deal with other countries' big guns. Wise up! The Taiwan defense ministry? What's happened to the one-China policy? We even cannot agree on our own national policy. This really does not deserve a comment and the time of anyone with a brain.
所以,我们被常规的军事演习吓坏了!这艘航母还落后美国30到40年呢。我们现在对于国内的枪支管制都搞得焦头烂额,更别提对付其他国家的大炮了。别傻了!**国防部?不是一个中国政策吗?我们甚至都没法就我们自己国家的政策达成一致。这真的不值得评论,也不值得有头脑的人在这浪费时间。
ell 81, st leonards on sea, United Kingdom, 1 day ago
All the noise fro Korea and Russia but these are the ones to watch.
所有吵吵声都在支持朝鲜和俄罗斯,这些人好好看看这些舰队吧。
allangre, Peterborough euSSR, United Kingdom, 1 day ago
Another emerging power that needs watching carefully. With Putin and Ji we need all our wits about us.
需要谨慎关注这个新兴势力。我们需要跟普京他们斗智斗勇。
peterr, glos, 1 day ago
China has become more wealthy and lifted millions out of poverty by selling its goods and services to people who want to buy them. China needs to understand that if those people choose not to buy goods and services from them - they will not have enough of a market place in the rest of the world to make up the difference. All this military posturing is about securing their trade routes - but - I don't know who is threatening those routes and if goods and services are not required by the rest of the world, then what is the point of the posturing??
中国越来越富强,它通过向全世界出售商品和服务使本国数百万人摆脱了贫困。中国需要明白,如果其他国家不从中国购买商品和服务,中国就没有足够的市场空间。所有这些军事姿态都是为了保护他们的贸易航道—但是,我不懂如果世界上其他国家不需要中国的商品和服务,谁还要威胁这些航道,那么中国这样摆姿态的意义何在?
Geeezzzz your boring, Penguin, Antarctica, 1 day ago
Chinese fishing again? No just bullying the neighbours
中国又来钓鱼啦?不,是来欺负邻国。
M Cavendish-Wells, Kensington and Chelsea, United Kingdom, 1 day ago
Bye, bye USA empire. Welcome to the new China Empire.
美帝再见啦。欢迎来到中国帝国。
Peter Stride, Earth, Canada, 1 day ago
China gearing up for war against it's neighbors.
中国正在加快准备跟邻国打仗呢
Justice, UK, United Kingdom, 1 day ago
Chinese equipment barely functions under peace time conditions, place it in a war like scenario and 70% of it would be in docks for repairs.
中国的设备在和平时期都未必能正常使用,真的打仗试试,70%都只能呆在船坞里维修。
Dave54 London, London, United Kingdom, 1 day ago
Better than our royal navy aircraft carriers...in dry dock 100% of the time...
总好过我们的皇家海军航空母舰,一天都没派上用场