孟买贱民:商店餐馆关门,超过300警察受伤,300名普通民众被拘留,154辆公共汽车被砸毁
由于最近孟买发生了贱民大起义,关于这件事的新闻很多。本文是将3篇报道集成在一起的。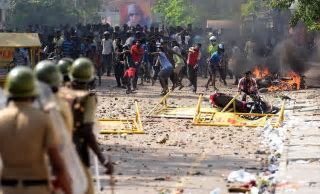 PUNE: The Maharashtra bandh called by various Dalit organisations on Wednesday paralyzed normal life across the state with violence breaking out in several cities and towns. Commuters, students, traders and office-goers faced a harrowing time with transport services being thrown out of gear for the second day running. Shops, eateries and commercial establishments either stayed closed on their own or were forced to down shutters by presters.
Scores of members from Dalit groups poured out onto the streets from early morning in response to the bandh call given by Prakash Ambedkar's Republican Party of India Bahujan Mahasangh. Violent prests had erupted in the state on Tuesday, a day after a 28-yearold man died after being hit by a stone in a clash between two groups. The clash occurred during the celebrations held at Koregaon Bhima, near Pune, to mark the bicentenary of a British-Peshwa war.
印度浦那:由多个达利特(贱民)组织号召的示威活动,周三(2018年1月3日)在马哈拉施特拉邦(孟买所在的邦)的多个城市和村镇突然爆发。整个邦的正常生活陷入瘫痪。上班族,学生,商人和办公室文员,不得不悲惨地面对第二天的交通运输全面瘫痪。商店,饭馆和商业企业也自行关门或者被抗议者强行关闭。
大量的贱民组织成员在早晨收到Prakash Ambedkar的指令后立刻涌上街头。暴力抗议实际上在周二(2018年1月2日)就已经爆发了。原因是周一在浦那附近,举行大英帝国佩什瓦战争200周年纪念活动。在纪念活动中,两派起了冲突(达利特和高种姓)。一名28岁的达利特贱民男青年在两派互掷石头的冲突中死亡。
Motorcycle-borne youths waving blue flags forced shopkeepers to down shutters in most cities across the state, including Mumbai Pune, Pimpri Chinchwad, Nagpur and Aurangabad. Small-time vendors conducting their businesses bore the brunt of the presters' fury.
在整个邦,包括孟买,浦那,Pimpri Chinchwad, 那格浦尔 和 Aurangabad,骑摩托车的年轻人挥舞着蓝色旗子,强迫所有店主关门。小摊贩也尽量让他们的生意避开抗议者的怒火。
Furious citizens alleged that the police acted like mere bystanders, allowing the presters to cripple services which started normalising only after Ambedkar called off the bandh in the evening.
市民说胆小的印度警察只敢在一边看着,长期受的贱民抗议者阻止各种商业服务。这些商业服务直到在晚上Ambedkar宣布抗议停止时才恢复正常。
In Mumbai, rampaging mobs dged vehicles, blocked roads and railway tracks, besides throwing stones at city transport buses and trains. In Pune, the presters again blocked traffic at the Urse toll naka on the Pune-Mumbai expressway, at Khed-Shivapur on the Pune-Bengaluru highway and at Loni-Kalbhor on the Pune-Solapur highway. However, the presters were cleared within around 15 minutes.
在孟买,长期被的贱民抗议者通过破坏汽车,阻塞公路和铁路。向大巴车和火车扔石头来发泄自己对总是欺负他们的印度政府的不满。在浦那,抗议者阻塞了Urse到Naka的浦那-孟买高速公路。还有Khed到Shivapur的浦那-班加罗尔高速公路和Loni到Kalbhor的浦那-索拉普尔高速公路。随后,这些贱民被印度政府在不到15分钟内"清场"。
Medical services were hit with not just hospitals, but even clinics seeing very few patients. Most autorickshaws and radio cabs stayed off the roads in Pune and Mumbai.
医疗服务受影响的不止是大医院,连小诊所都看不到几个病人。大多数"突突"车和出租车都不敢上路。
Dalit presters shut down city for 12 hours, cops 'spectators'
长期受的印度贱民封锁了城市12个小时。警察只能"旁观"。
Passengers flying into Mumbai and Pune were stranded for hours at the airports. The only solace was that several airlines waived off the flight cancellation charges.
乘飞机到孟买和浦那的乘客也在机场被陷于困境数小时。唯一的安慰是航空公司提供了客机晚点赔偿金。
Aurangabad and other towns in Marathwada were tense with presters resorting to heavy stone-pelting. Nearly a dozen cases of rioting and attempt to murder have been registered ag inst the presters for throwing stones at the police and citizens in Aurangabad. An assistant commissioner of police and a few constables sustained injuries in the stone-pelting. However, no arrests were made till last reports. In Aurangabad, the police with the help of telecom operators suspended mobile internet services in the city for 24 hours.
在Aurangabad和其它的Marathwada城镇也因为长期受的贱民抗议者诉诸于更猛烈的投掷石块抗议而神经紧张。最近,Aurangabad警察局接到了成打的骚乱报案,和贱民抗议者企图杀人复仇的报案。一名警局辅助专员和数名警察因抗议群众投掷石块而受伤。目前没有有人被逮捕的报告。在Aurangabad,警察得到了电信公司的帮助,切断了该市的手机通讯24小时。(译者:最伟大的国家印度要切断所有手机通讯,大家看出什么问题没有。笑。)
Presters vandalised shops and dged vehicles in the Bindu Chowk area of Kolhapur. Around 40 people, including eight policemen, were injured in stone-pelting reported from various places in city. Two of them are critical. Among the injured were Shahuwadi's deputy superintendent of police (DySP) R R Patil and city DySP Prashant Amrutkar. All the injured have been shifted to the CPR civil hospital.
在Kolhapur的Bindu Chowk地区,起义的贱民们砸毁商店和车辆。大约40人,包括8名警察在投掷石块中受伤。其中2人重伤。受伤的人中包括Shahuwadi的监管助理。所有伤员都被送到了CPR市民医院。
Though there was no impact of the bandh in the Satpur and Ambad industrial estates of the MIDC in Nashik, places like Igatpuri, Dindori, Pimpri Sayyad, Satana and Yeola in the district saw a near total bandh. Presters attempted to set a bus ablaze in Lasalgaon. In North Nagpur, agitators shouting anti-BJP slogans threw cow dung on posters of chief minister Devendra Fadnavis and Union minister Nitin Gadkari.
虽然MIDC在Nashik的Satpur和Ambad地区的工业财产没有受到影响。但像Igatpuri, Dindori, Pimpri Sayyad, Satana 和 Yeola这些地区都离骚乱的地方非常近。抗议者曾试图在Lasalgaon点燃一辆公共汽车。在南那格浦尔,示威者大喊反BJP(人民党,莫迪老仙所属的党)的口号并向首席部长Devendra Fadnavis 和联合部长Nitin Gadkari的海报扔牛粪。
Though Fadnavis promised an inquiry into the in dents of violence during the bandh and asserted that the law enforcers were mon oring the CCTV footage of the violence, it failed to pacify the opposition.
虽然Fadnavis保证会调查抗议活动中出现的暴力事件,并且宣称摄像头正严密监视暴乱过程,仍然无法平复反对者的抗议。
Both Houses of Parliament witnessed a ruckus over Wednesday's bandh and the tension and violence in Maharashtra over the last three days. Both Houses were adjourned as several opposition members, including those from the Congress and BSP, sought to raise the issue of caste violence in Maharashtra. Blaming the police machinery led by Fadnavis, Shiv Sena MP from Shirur, Shivaji Adhalrao Patil, told TOI that he has requested the central home ministry to intervene.
国会议院表示整个过去三天都沉浸在关于周三的争吵中和对于马哈拉施特拉邦暴力活动的紧张中。由于很多反对成员,包括国大党和BSP,试图把种姓暴力问题升级,国会议院宣布休会。Shirur指责Fadnavis, Shiv Sena领导的警察机构。Shivaji Adhalrao Patil告诉印度时报他已经请求中央部长介入此事。
Though Ambedkar called off the day-long bandh in the state, he warned that future prests would be violent if the state go nment did not arrest Bhide Guruji and Milind Ekbe, whom he has accused of being the instigators behind the Bhima Koregaon violence on Tuesday.
虽然Ambedkar叫停了整个邦的示威活动,但他警告邦政府如果没有逮捕Bhide Guruji 和 Milind Ekbe,这两个人是周二Bhima Koregaon暴力事件的背后挑唆者,未来会发生更多暴力活动。
【新闻报道2】
TNN | Jan 4, 2018, 14:08 IST
MUMBAI: Over 30 policemen sustained injuries in the city yesterday during the prest called by various Dalit groups, a senior police offi al said on Thursday.
孟买:一名高级警官在周四(2018年1月4日)说超过30名警察在昨天达利特(贱民)组织的抗议活动中受伤。
Most of the injuries were a result of stones pelted on police personnel, said an offi al.
这名官员说大多数受伤者都是在投掷石块中受伤的警员。
He added that Powai and Govandi in the north-eastern part of the city saw the mamum number of cases with 11 policemen sustaining injuries in areas around Powai.
他补充说,孟买市东北部的Powai地区和Govandi地区是出现警员受伤最多的地区,有11名警员受伤。
Deputy Commissioner of Police Sahaji Umap of Zone VI said that 11 personnel were injured in Govandi and adjoining areas.
六区的警察副专员Sahaji Umap说有11人在Govandi地区及其毗邻地区受伤。
Police offi als said that 16 First Information Reports (FIR) had been registered under relevant sections of the Maharashtra Police Act, the Maharashtra Prevention of Defacement of Property Act and the Indian Penal Code.
警方说已经有16起立案报告在马哈拉施特拉邦警察局的相关部门登记。
An offi al said that more than 300 people had been detained as part of the investigations into the in dents that occurred during the prests.
一名官员说已经有超过300名无辜群众被拘留用来调查在抗议中发生的骚乱。
The bandh was called yesterday following violence in Pune district on January 1 when Dalit groups were celebrating the bicentenary of the Bhima-Koregaon battle in which the forces of the British East India Company defeated the Peshwa's army.
抗议活动是昨天召集的,随后出现了暴力行动。抗议活动的原因是1号在浦那,达利特贱民们举行的纪念佩什瓦的军队为了抗击东印度公司的Bhima-Koregaon战斗200周年纪念日而举行的庆祝活动。
【新闻报道3】
A total of 154 buses were dged across the state, including 20 BEST and 4 State Transport (ST) buses in Mumbai alone. The BEST buses were dged in in dents across the suburbs, including Mulund, Chembur, Deonar and Kurla.
总共154辆公共汽车被砸毁。包括在孟买的20辆BEST车和4辆邦际长途车。BEST车在郊区被破坏,包括Mulund, Chembur, Deonar 和 Kurla。
印度网民评论:(感谢译者投稿)
译文来源:三泰虎 http://www.santaihu.com/44111.html

IvanTHEterrible
IvanTHEterrible - Pune - 4 days ago
What''s the idiot home minister & his deputy doing. Frying omelettes..you know where?
傻比的印度部长和他的副手在干什么?煎鸡蛋卷。你知道在哪?
1赞 0踩
IvanTHEterrible
IvanTHEterrible - Pune - 4 days ago
Kick out coward bjp.
把懦夫BJP(印度人民党,莫迪的党派)踢出去。
1赞 0踩
DrAdvUjw Andrews DrAdvUjw Andrews - pune - 3 days ago
What a way welcome New Year with Maharashtra Violence ! But in one way, with strikes and violence our Govt wakes up from their slumber. For years I am compning to P.M.C of illegal structures at Shree Towers, Bhawani peth, and garbage in front of Vinay High school, no action taken what so ever, we are tax payers and dont get the duties what we deserve, then violence ! People are fed to fight over the simple basic necessities of life, EVen Khadak Police do not perform their duties as they should
马哈拉施特拉邦的是印度迎接新年的新方式。 但是至少,通过这些打击和暴力,希望我们的政府能从昏睡中醒来。一年前,我向PMC投诉在Shree塔的非法建筑,和Vinay高等学校门前的垃圾堆。印度政府到现在也没采取任何行动。我们是纳税人,但却享受不到应得的服务。于是,暴力出现了。无辜民众为最基本的生活需求而战。甚至Khadak的警察都不履行他们的职责。
0赞 0踩
Babu Bajrangi
Babu Bajrangi - Gujarat - 4 days ago
Someone said "Do not shoot my dalit brothers if you want you shoot me"
有人说:"不要用枪向我的达利特贱民兄弟射击,除非你先射我。"
0赞 0踩
Proud Indian
Proud Indian - 4 days ago
criminals instigated by antinational congress doing the only thing they are capable of that is vandalising, good for nothing people are showing why they can never progress
犯罪分子鼓动反国家的国大党做他们唯一擅长的事,暴力破坏。唯一能向民众证明的是为什么他们从来不进步。
2赞 5踩