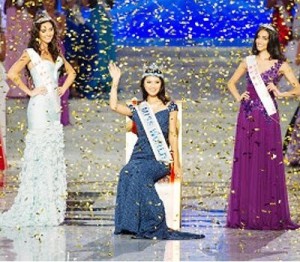 2012世界小姐冠军于文霞


以下是印度网民的评论:




原文标题:Miss World 2012
原文链接:http://photogallery.indiatimes.com/articleshow/15548386.cms




Susnatha (Silchar)
Beautiful Photograph !



漂亮的照片!
P.K. (mumbai)
Now multinational cosmetic company will sell their products in China.
Agree (5)Disagree (0)Recommend (1)



跨国化妆品公司如今会在中国卖他们的产品。
Darkensang88 (Kol)
Now a chinky miss world!!
Agree (5)Disagree (0)Recommend (1)



现在一名中国小眼女士夺得世界小姐头衔!





原创翻译:三泰虎 http://www.santaihu.com
Garage Sale (Bangalore)
Congrats ... good to see a chinese i think it is the first time for them
Agree (5)Disagree (0)Recommend (0)



祝贺...很高兴看到了一名中国女人获胜,我想这是她们首次摘得世界小姐冠军吧。





(三泰虎注:首位夺得世界小姐冠军的中国人是张梓琳,她于2007年夺得第57届世界小姐选美大赛决赛冠军)
Adrish Banerjee (Malibu Beach)
China is selling very expensive clothes and cosmetics for the past 12 years. When Chinese comes to the US they bring $250,000 to $1,000,000 cash and millions in credit card to buy anything and everything they can find in 5th Ave NY or Rodeo Drive in Beverly Hills. Chinese basically buys out Louis Vuitton, Prada, Gucci and other brand. See Indians call themselves democracy but live like communist, where as Chinese calls themselves Communist but live like Capitalist.
Agree (3)Disagree (0)Recommend (0)



在过去12年里,中国有卖非常昂贵的衣服和化妆品。中国人怀揣着25万美元到100万美元不等的现金和能刷数百万美元的信用卡去美国纽约第五大街或者比佛利山庄罗迪欧大道扫货。中国人一般购买路易威登、普拉达、古琦和其他奢侈品牌。看看,印度人称自己是皿煮人士,却活得像共产主义者;中国人称自己是共产主义者,却活得像资本家。




Tuan Anh Nguyen (tuananh) replies to Adrish Banerjee
I so much agree. This just proves that the competition was fixed from the beginning. Better NOT to send our contestants to Miss World. Time to boycott such unfair competitions. She won because she is made in china. How can Miss China fulfill her role as she will be based in the UK for a year and expected to influence positively world causes if she cannot even be understood verbally?. How will she communicate? Hire an interpreter for her? RUBBISH.




非常同意。这个只是证明选美比赛一开始就内定好的。最好不要派我们的选手参加世界小姐角逐,该抵制这个不公平的选美比赛。她之所以获胜,是因为她是"中国制造"出来的。既然中国小姐无法用英语口头交流,那么如何前往伦敦开始履行她作为世界小姐一年任职期间的义务,并积极影响世界事业?她怎么交流?为她聘请一名翻译?垃圾...



vipin mankotia (Bilaspur Himachal pradesh)
China is on the move,industrial goods, olympic medals and now miss world



中国在前进,工业产品,奥运奖牌,如今是世界小姐...
Prajakta Dighe (Nagpur Maharashtra)
Very Beautiful Congrats China!
Agree (1)Disagree (0)Recommend (0)



非常漂亮,祝贺中国!
Harin Bansal (New Delhi)
Congrats miss China :)
Agree (2)Disagree (0)Recommend (0)



祝贺中国小姐 :)
Win. Swamy (Bangalore)
Congrats to you Miss China, but Vanya is more beautiful.
Agree (4)Disagree (0)Recommend (2)



中国小姐,祝贺你,但瓦妮雅更漂亮。
Kumar Ankur (Bangalore)
The result seems to be concocted by China since the venue is in China.
Agree (5)Disagree (2)Recommend (1)



比赛结果似乎是中国策划的,因为比赛地点在中国。
Ilias (USA)
Congratulations! These pageants are not for beauty alone any more. There are so many factors being considers to crown a person with the title. If it was for beauty only then there were many beautiful constants in this pageant.



祝贺!选美比赛不再只是看有多漂亮。要摘得冠军头衔还得考虑许多因素。如果只看美貌,那么这次比赛有许多漂亮的选手。
Tapas Mandal (Kolkata)
First Miss World from China.



首位来自中国的世界小姐。
原文标题:Miss World 2012: Vanya Mishra loses the pageant to Miss China
原文链接:http://zeenews.india.com/entertainment/celebrity/miss-world-2012-vanya-mishra-loses-the-pageant-to-miss-china_117392.html
balen.c.iaga - 菲律宾
miss india was a revelation that night. i also thought that she was going to win or at least be in the top 3 considering the fact that she had a stronghold of the competition. what a shock! even mexico was not in the top 7. and miss philippines lost the talent competition to china's very weak singing snoozefest. congrats india for doing so well.



印度小姐是那个晚上令人出乎意料的选手。我原以为她会获胜,或者至少入围前三名。多么令人吃惊!连墨西哥小姐也没进入前7名。菲律宾小姐在才艺表演中输给中国小姐平淡的歌唱表演。祝贺印度小姐表现如此之好。
Geetika Chaddha - 孟买
It ok vanya now you can make your bollywood career & search millionare person for your marriage.



很好,瓦妮雅现在可以从事宝莱坞演艺事业,并找百万富翁结婚。
Sameer - 果阿邦
this is expected and even chinesegovt know that china will never make in international pageant? in 100 yrs and coz chinese girls lacks lot? of things and cant speak english proper to comunicate with world. only golden chance they wuld have got during when they host the miss world contest in thier homeland.they succeeded in it twice once in 2007 and now 2012. this is all communist chinese govt politics and i am sure the govt? have paid big price to miss world organisatiion to get her crown or by putting lot of pressure on judges.



这是预料中的。连中国政服也知道中国一百年都进不了国际选美比赛,因为中国小姐无法用英语和世界交流。只有在本土举行世界小姐选美比赛,中国才能获得千载难逢的机会。中国成功了两次,一次是2007年,一次是现在的2012年。这些是共禅中国政服的政治伎俩。我确信,为了摘得世界小姐冠军,中国政服给了世界小姐选美机构一大笔钱,或者向裁判施加了很大压力。
sarang - 普纳
Well Done Vanya..for us ur the winner.. u have all the talent,beauty and elegance to wear that crown. Unfortunately it was passed on to the host country..the contestant of which could not even speak English..or the judges did not understood what U said in final round... All the best for your future and may U win more crowns...



做得好,瓦妮雅...在我们眼里,你是冠军...你有摘得冠军所必须的才能、美貌和高雅。不幸地是,冠军给了主办国...就是那个连英语都不会说的中国小姐...裁判在决赛中都不理解她在说什么...祝你未来一切顺利,并获得更多冠军头衔...
Sonal - 德里
Great Miss India, your are still a winner



印度小姐很棒,你仍然是获胜者。
jatinder singh - 阿姆利则
finished among top 7.....................thts not an easy task...................



跻身前7名...这可不简单....
Harish Arora - London
Well done Vanya ur answer is real so awesome ...and I m so proud of u ..best of luck ahead



干得好,瓦妮雅,你的回答真的非常棒...我真的为你自豪...以后好运
jeannine - Mapple Shade
Why the China Republic win and she cannot speak English and the other try to speak English this is not fair



为什么中国小姐赢了,她不会说英语,其他人却设法说英语,这不公平。
Sajid - Doha
Miss India has all the chances to win. What happened? But take note of this: Miss World 2012 - China. Held in Ordos, China Miss World 2007 - China. Held in Sanya, China China never won ANY major beauty contest hosted by other country.



印度小姐很有机会赢。发生了什么?注意:2012年世界小姐在中国鄂尔多斯举办,2007年世界小姐在中国三亚举办。中国从来没有在其他国家举办的重大选美比赛中获得过冠军。
from ramamruth39 at 20:58, Aug 18, 2012
QUITE APPARENT THAT THIS GAME TOO IS "FIXED" IN FAVOUR OF THE HOST-NATION !



很明显,本届选美比赛是内定的,偏向主办国!
Abha Tiwari
After all made in china.



毕竟是中国制造
原文标题:Vanya Mishra wins 2 top awards at Miss World pageant
原文链接:http://timesofindia.indiatimes.com/entertainment/miss-india/news/Vanya-Mishra-wins-2-top-awards-at-Miss-World-pageant/articleshow/15550607.cms
Sam (San Jose) 1 day ago
Anyone who saw the telecast can see that it was totally biased and rubbish.... China was not even close...Vanya dominated all the way and she does not even end up in the top 3??????????.... Forget top 3 she was a clear winner....a clear winner.... all please watch the telecast from the beginning to end.....plz and u decide
Agree (25)Disagree (15)Recommend (9)



任何看了电视广播的人会看出这次选美比赛有失公正,很垃圾...中国小姐差远了...瓦妮雅一路领先,却连前3名也没进入?别说前3名,她明显应该是冠军...请从头到尾看电视转播,然后再做决定...
Shaper Golden (Austin) 1 day ago
Hmm, at last Chinese get a respite. Being unprivileged in this beauty category due to slit eyes and flat features they must be very happy to hear this. Congrats!
Agree (3)Disagree (17)Recommend (0)



最终,中国人暂时舒了一口气。就凭眯缝眼和扁平脸,她们在选美比赛中没有一点优势,如今获胜了肯定让她们很高兴。祝贺!
nelson lai (Toronto)
So many complaints... stop being a country of sore losers! Chinese women are beautiful.
Agree (14)Disagree (19)Recommend (5)



这么多人抱怨...别让印度成为输不起的人的国家!中国女人长得漂亮。
lords (Noumea)
The miss world crown has just become a joke now. Just giving to every nation at random to make the event popular among all continents. China can never beat Indian women in beauty. One can find heaven in Indian women eyes. Anyhow congrats for the chinese girl. Luck favors the brave?
Agree (12)Disagree (13)Recommend (5)



世界小姐冠军如今成了笑柄。为了让选美比赛在世界各国流行,就任意颁发给某个国家吧。中国女人在选美比赛中永远打败不了印度女人。你可以从印度女人眼中找到天堂。不管怎么说,祝贺中国小姐,运气垂涎勇敢的人?
balajitry (Trichy)
if anyone wants to win the crown the golden rule is to host the event isnt ?
Agree (2)Disagree (1)Recommend (1)



金科玉律:如果有谁想摘得桂冠,那么就举办选美比赛吧,不是吗?
JKris (Pune) 1 day ago
Miss China got the Miss World title, and cannot speak English. How will she contribute to the World ? The event was held in China. Do we smell a rat ?
Agree (16)Disagree (6)Recommend (3)



中国小姐摘得世界小姐头衔,却不会说英语,如何为世界做贡献?这届选美比赛在中国举行,有没看出什么可疑之处?




pradeep (Mumbai) replies to JKris 1 day ago
FYI, china is one of the biggest cosmetics market. Nearly 50% of women undergo cosmetic surgeries(for European nose!, Big eyes!, etc). Popular entertainment websites there are full of such advertisements!
Agree (3)Disagree (1)Recommend (1)




供你参考,中国是世界最大的化妆品市场之一。接近50%的女人接受整容手术(整成欧洲人的高鼻子、大眼睛等)。流行的娱乐网站上到处是这些广告!



Aditi Sehgal (New Delhi) 1 day ago
India's representative was more b'ful than the current Miss world,she was beautiful smart n confident bt as u know that China is slowly becoming the world power,,,so the ball is in their hands..........sad!
Agree (8)Disagree (3)Recommend (3)



印度小姐比当选世界小姐更漂亮。瓦妮雅漂亮、聪明又自信。你们知道,中国慢慢成为世界大国,所以主动权掌握在他们手中...难过!
arcturus13 (mumbai)
These beauty awards have been a joke and will remain so. The countries that win these awards are the ones which cosmetic companies want to expand into. Earlier it was Latin America (Venezuela, Colombia) then came India's turn. And now they have moved on to the biggest market of all: China.
Agree (23)Disagree (0)Recommend (10)



这些选美大奖是个笑话,以后也仍是。那些摘得冠军头衔的是化妆品公司想要扩大市场的国家。以前是拉丁美洲(委内瑞拉、哥伦比亚),后来轮到印度,现在他们转向最大的市场:中国。
Nakul V. Khatu (Mumbai)
ups and downs are a part of life...
Agree (2)Disagree (0)Recommend (0)



人生起起落落是生命的一部分...
sunil_4667 (Mumbai)
I saw Miss World contest where Vanya really made a mark on the judges. But what I saw and understood is that judges were tightened and manipulated by Chinese government to see that China's girl get the coveted trophy. There were many other countries' girls who were more beautiful and intelligent than Chinese girl with very well soft spoken English language who had made a mark, but alas, money and power have made judges to judge Miss China as Miss World. Very pathetic decision!
Agree (8)Disagree (2)Recommend (1)



我看了世界小姐选美比赛,瓦妮雅给裁判留下了深刻印象。但就我看来,裁判受到中国政服的操纵,为的是让中国小姐获得梦寐以求的冠军。有许多国家的小姐比中国小姐更漂亮,更聪明,英语口语又不错。唉,金钱和权力使得裁判把世界小姐头衔判给了中国小姐。非常可悲的决定!
Awards are Pre-Determined (From Business Consideration.) 22 hrs ago
These Awards are Pre-Determined From Business Consideration.
Agree (6)Disagree (0)Recommend (2)



出于商业考量,这些奖项是预先决定的。
Tony Shah (India)
Well done Vanya and don't worry may be this competition will held again in the middle of the year because any thing with chineese sticker cannot last one year.
Agree (2)Disagree (0)Recommend (1)



干得好,瓦妮雅,别担心,可能本届选美比赛在年中还会再举办一次,因为任何贴有中国人标签的东西都用不了一年。
Fixed Contest (MissWorld) 20 hrs ago
the chiniese contestant has only 558 facebook likes, Vanya has 73000 facebook likes!!! This was a fixed contest. Results are wrong!!
Agree (4)Disagree (0)Recommend (1)



在facebook上,中国小姐只有559个人表示喜欢,而瓦妮雅有73000个!这是一场内定的比赛,结果是错的!
Sanju Halasur (Kalyan, India)
i guess its like china mobiles which are good to look but not durable,where as india is like branded mobiles good looks and durable,people who are having no brains will choose china:-)
Agree (5)Disagree (0)Recommend (0)



我猜中国小姐就像是中国手机,好看但不耐用,而印度小姐堪比品牌手机,好看又耐用。没有头脑的人才会选择中国小姐 :-)



原创翻译:三泰虎 http://www.santaihu.com

Abhinav Singh (Chennai)
she should have won...india can organise one such event and give to an indian as chinese did :P....
Agree (4)Disagree (1)Recommend (1)



她本该获胜...印度可以效仿中国举办此类选美比赛,然后把冠军给印度小姐 :P
vohrard (Pune)
You look much better than Miss China.Anyway congrats for 2 awards,
Agree (10)Disagree (2)Recommend (1)



你比中国小姐好看多了。不管怎么说,祝贺你获得2个奖项。
rk (jaipur) 17 hrs ago
dragon why are you top in every field of life?do you think you will remain on top forever?
Agree (6)Disagree (1)Recommend (2)



中国龙,为什么你在生活的每个领域都领先?你认为自己可以永远领先吗?
cheenki lover (usa) 16 hrs ago
Chinese,Japanese,South Korean women have high cheekbones, silky black tresses, porcelain skin,naturally slim figures,small noses,petite body frames. But the Miss China's have big faces and broad shoulders. I really think the Korean Air, Singapore airlines, air hostesses arereally pretty. If you notice, the only ugly air hostesses in Singapore airlines are mainly the indian ones. I love oriental women so much.
Agree (4)Disagree (15)Recommend (0)



中国女人、日本女人和韩国女人高颧骨,柔滑的黑色长发、细如瓷器的皮肤、天生苗条的身材、小鼻子、娇小的身躯,但(摘得世界小姐冠军的)中国小姐的脸蛋大,肩膀宽。我认为韩国航空、新加波航空的空姐真的很漂亮。如果有注意的话,你会发现新加坡航空里长得丑的空姐主要是印度人。我非常喜欢东方女性。
Uttam Bhattacharjee (India) 14 hrs ago
Vanya u look much beautiful then Miss China PR.We r proud of u.
Agree (9)Disagree (1)Recommend (0)



瓦妮雅看起来比中国小姐漂亮多了。我们为你自豪。
8月18日,鄂尔多斯,2012世界小姐总决赛举行,来自中国的于文霞摘得了世界小姐第一名的桂冠。分获2-3名的是威尔士小姐、澳大利亚小姐。来自委内瑞拉的上届世界小姐沙尔科斯,为于文霞加冕,全场随即响起欢呼声。于文霞击败来自世界各地的115名佳丽,是自2007年之后,中国代表第二次获得世界小姐冠军。印度小姐瓦妮雅·米沙拉跻身前7名。芳龄23岁的于文霞,是一名音乐系学生,她表示将来想成为一名音乐老师,能够夺冠也感到意外。