原文标题:11-year-old Chinese reporter puts officials on the spot
原文链接:http://timesofindia.indiatimes.com/world/china/11-year-old-Chinese-reporter-puts-officials-on-the-spot/articleshow/17169594.cms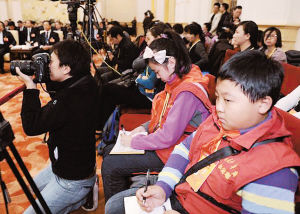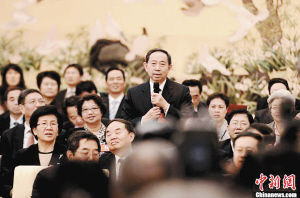 BEIJING: Chinese officials accustomed to the tame questions of a compliant state press were caught out by a plucky 11-year-old reporter during the country's sensitive Communist Party congress.

Sun Luyuan, a Beijing sixth-grade student, on Friday shook up one of the tightly-controlled party meetings on the congress's sidelines with a question that put officials on the spot over China's miserable food-safety record.

Noting that a steady stream of scandals and health scares involving tainted or unsafe food products had particularly affected students, leaving many sickened in various incidents, Sun asked why China can't clean up its act.

"I love snacks, but I don't dare to eat snacks now because we see so many reports these days of problems with food products," Sun asked high-level officials during a congress delegate meeting, according to state-run China News Service.

During the meeting at Beijing's cavernous Great Hall of the People, Sun, who works for the Chinese Teenager News, continued by asking "why are these kinds of food products available for purchase?"

"As many primary and middle school students eat our lunches at school, what can you do to put us at ease over food safety?" she asked.



北京:党代会召开期间,习惯了顺从的国家媒体的官员今天被一名有勇气的11岁小记者问了个措手不及。





孙露源是北京的一名六年级学生。9日,她提到了中国可悲的食品安全记录,令官员处于尴尬境地。





她指出,涉及受感染或者不安全食品的丑闻和健康危机源源不断出现,特别是影响了学生,导致许多人在各种食品问题中患病。她问道为什么中国不清除此种不法行为。





"我也爱吃零食,但我现在不敢吃零食了。因为我们在新闻中看到很多食品都出了问题。"





"为什么这些食品会流入市场供人购买?许多中小学生在学校食堂吃午饭,怎么才能让我们吃得放心呢?"



The Communist Party is presenting a tightly-scripted image of national unity for the week-long congress that opened on Thursday.

Held every five years, the congress will end next Wednesday with the unveiling of a new top leadership line-up widely expected to be headed by vice president Xi Jinping, who will lead for the next ten years.

Ma Kai, a top official in China's cabinet who presided over Friday's meeting, passed the question to education minister Yuan Guiren, the China News Service said.

Yuan offered a stock official response pledging the government was addressing the situation and putting proper safety measures in place, a line repeated for years even as the scandals have persisted.

Increasingly anxious Chinese consumers are regularly hit with food scares ranging from cancer-causing toxins found in cooking oil to food items that are expired or contain dangerous chemicals and additives.

In 2008, China was rocked by one of its biggest-ever food safety scandals when the industrial chemical melamine was found to have been illegally added to dairy products to give the appearance of higher protein content.

At least six babies died and another 300,000 became ill after drinking the tainted products.



为期一周的党代会8日开幕。党努力展现国家团结的形象。





党代会每五年举行一次。此次党代会将于15日结束。新的最高领导层会公开。





会议主持人、国务委员马凯将问题转交给教育部长袁贵仁。





袁给出了老套的官方答复,向孩子承诺政服会解决这个问题,会制定合理的安全保障措施。这样的话重复了好几年,即使是丑闻发生时也能听到。





愈发担忧的中国消费者经常受骇人的食品问题的打击,包括食用油里发现致癌物,过期或者包含有害化学物质和添加剂的食品。





至少有6名婴儿因饮用了受污染的奶制品而死去,还有30万名婴儿患病。




以下是印度网友的评论:




Shantha Kumar (Bharat)
good one.. kids who are not aware of dangers of being straightforward are difficult to handle!!
Agree (2)Disagree (1)Recommend (0)



好样的,口无遮拦的孩子没有意识到危险,是最难对付的!
Amogha Shanabhag (Neustadt an der Weinstra)
I highly appreciate European Union's food safety standards. Booming economy is good. However, not at the cost of health. You can't, bring back your loved ones with money. I wish Indians and Chinese understand this!
Agree (5)Disagree (0)Recommend (0)



我非常欣赏欧盟的食品安全标准。经济繁荣是件好事,但不能以健康为代价。花钱买不回心爱的人。我希望印度人和中国人能理解!
Yesu (Trichy)
Congratulations to the Child. Hope she stays safe, and that ve things are done about Food.
Agree (2)Disagree (0)Recommend (0)



祝贺这名小孩。希望她能保持安全,希望有关食品的问题能够得到解决。
Let Me Die (New delhi)
Hail Child. Well done Bro.



向孩子致敬。干得好。
antony (indian)
Where even a criminal journalist thinks twice to raise his voice, the child has shown great courage.......... thumbs up ...........................



就连罪恶的记者提问题前也会三思,这名小孩表现出了很大的勇气....(翘起姆指)...
Shailesh Agrahari Gupta (New Delhi, India)
Future of china is in safe hand. the young tribe is brave... live long the young blood.



中国的未来安全了,年轻人很勇敢...青年人万岁。
Natu Desigar (chennai)
...until a small child said: "But the emperor has no clothes"!.... there goes a fairy tale!



就像一个童话故事,最终有一名小孩说:"但是皇帝没有穿衣服!"
Yasu (Japan)
I suspect this stunt was staged. To use an innocent child, especially a girl, is very effective to impress the adult, who is in fact more innocent, in a bad sence.
Agree (0)Disagree (2)Recommend (0)



我怀疑这是有意安排的嚼头。利用无知的孩子,特别是小女孩,可以给成年人留下非常深刻的印象。糟糕的是,这些成年人实际上更无知。
RKSH (Chandigarh)
Corruption is rampant even in China.
Agree (3)Disagree (0)Recommend (2)



就连中国也腐败猖獗。
rammann (chennai)
good introspections, everyone to follow



反省得好,每个人应该效仿。
WAG (Maha Mumbai)
Often children raise spontaneously unselfish questions, which well-informed adults find it difficult to answer.



孩子经常不由自主地提出一些让见多识广的成年人难以回答的无私问题。
creativeoxygen (New Delhi)
How can a 11-year old kid be called a reporter? Is he a student reporter or trainee journalist? Something fishy....



11岁的孩子怎么能被称为记者?她是学生记者还是见习记者?有点怪怪的...
N. N. Modi (Jaipur)
Let us look at our own country rather than breaking our head what Chinese are doing in China. They are not so interested in wasting time writing hollow and unproductive comments in newspaper blogs like we do. Arm chair elitism is one of the characteristics being found among Indians.
Agree (4)Disagree (0)Recommend (1)



让我们看看自己的国家,别挤破脑袋去看中国人在做什么。他们没有兴趣像我们那样浪费时间在报纸和网上写空洞和无价值的评论。空想精英主义是在印度人身上发现的特征之一。
SCL Premi (India)
Kudos, 6th grader Sun Luyuan, you hit the nail on the head in a very mature manure. You brought a burning problem under lime light. Any country would be proud of a child like you!
Agree (6)Disagree (0)Recommend (1)



六年级小学生孙露源问得好,可谓是一针见血,让一个亟待解决的问题成为媒体关注焦点。任何一个国家都会为你这样的孩子自豪!
Babush (Jamshedpur (Tata Nagar),)
poor quality of food security in india and china is a fact.... it is because of high population and corruption.... in china it is mainly because of everything is controlled by the state and they think what they are doing is right.....
Agree (2)Disagree (0)Recommend (0)



中国和印度存在食品安全问题是一个事实...这要归咎于人口众多和腐败猖獗...在中国,主要原因是一切尽在国家掌控之中,他们认为自己所做的事情是对的...
kris (Hyderabad)
This happens when a country is on a fast track of growth- Take India- If someone asks such questions, he might get injured instantly. Goons and corrupt can deliver instant justice in India.



一个国家处于快速发展轨道时就会出现这样的问题。以印度为例,如果有人问此类问题,他可能立马会受袭击致伤。印度的暴徒和腐败分子会立即将其"绳之以法"。
raj john (sj)
LOOK AT WHAT CHINESE SUPPLIES TO USA 1.LEAD IN TOYS 2.MELAMINE IN MILK PRODUCTS 3.SULPHUR,CADMIUM , IN JEWELLERY,SHEET ROCK 4.EXPLODING TIRES ........ 5.WHY DOES CHINA DO THIS TO USA,OTHER COUNTRIES ALL CHILIBAN,,, DONT JUMP THE GUN THESE ARE FACTS,NOT ;LIES
Agree (1)Disagree (2)Recommend (1)



看看中国人出口给美国的产品:





1、含有铅的玩具;





2、受三聚氰胺污染的牛奶制品;





3、夹杂着硫磺、铬的珠宝和板岩。





4、会爆胎的轮胎;





5、为什么中国要这样对待美国,其他国家都......,别激动,这些是事实,没有说谎。




raj john replies to Pardeep Gupta
Fully agree,junk, poisonous, harmful ,no value for money ,however slowly America is stopping it




完全同意,垃圾货、有毒、有害、毫无价值。不管怎样,美国人慢慢不买了。



Jhakas INDIA (bhubaneswar)
Chinese can't help their habit of producing cheap and substandard quality things and getting confronted publicaly by a 11 yr old was last of their expectations as they can't even jail for that. COMMUNISM IN SPOT.



中国人改不了生产不合格便宜货的习惯,被11岁的孩子质问是他们最不愿意看到的事情,他们不能把她投入监狱。
Baby Mohan (Bangalore)
I hope they will not kill her ! She asked a really dangerous question, but very relevent. I am really worried about her safety now... that innocence of boldness is not acceptable there. I heard stories of citizens whoever asks questions unconfortable to any officials would just disapear. May God bless her!
Agree (3)Disagree (0)Recommend (0)



我希望他们不会把小女孩杀了!小女孩问了一个危险却又中肯的问题,我现在真的担心她的安全...无知的大胆在中国是不会被接受的。我听过一些故事,即谁要是问了一些令官员感到不舒服的问题就会消失。愿上帝保佑她!
《印度时报》10日报道,党代会召开期间,官员被一名有勇气的11岁小记者问了个措手不及。孙露源是北京的一名六年级学生。9日,她提到了中国可悲的食品安全记录,令官员处于尴尬境地。她指出,涉及受感染或者不安全食品的丑闻和健康危机源源不断出现,特别是影响了学生,导致许多人在各种食品问题中患病。她问道为什么中国不清除此种不法行为。"我也爱吃零食,但我现在不敢吃零食了。因为我们在新闻中看到很多食品都出了问题。"